Drinks writer Jane Clare of One Foot in the Grapes A-Z wine guide
Loxwood Meadworks Pure Mead  is a bespoke blend of honey, crisp and refreshing with a light honey sweetness and can be chilled and enjoyed like a white wine, or poured over ice.
Watch more of our videos on Shots! 
and live on Freeview channel 276
Visit Shots! now
There's a buzz about the letter H in our A-Z of wine
The letter H sits nicely at the beginning of words such as hurray! Or happiness! Or harmony! Or hiccups. I mention that one because I had a fit of them last night and the dog couldn't work out what was going on. I'm so classy.
Anyway. Back to H. I'll start just as I have in the past few weeks, by explaining that I'm enjoying a foray of drink-related things, using an A-Z structure as my guide.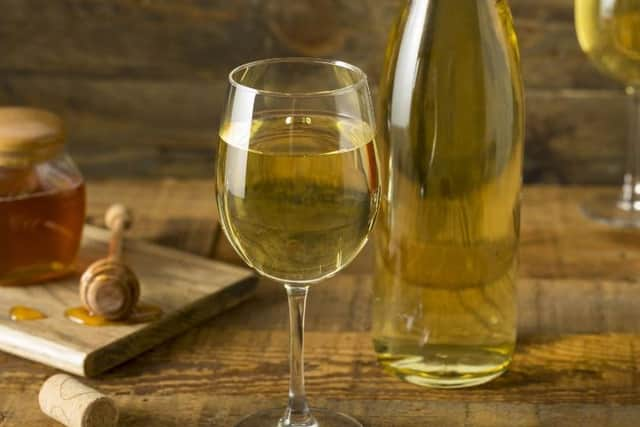 This week it is… hurray!.. the letter H. Drinkie things add happiness and harmony to my life and just occasionally the hiccups too.
Let's dive in then with our first H, and I'll begin with Hungary.
You may be thinking (I bet you are) what on earth is Hungary's contribution to the world of wine and drink?
My friends, Hungary has been making wine for thousands of years and is home to one of the most majestic, enticing, moreish, sweet wines of the world: Tokaji Aszú.

The furmint grape is mainly responsible for these wines. The grape develops a certain style of rot on the vine, called noble rot (I've mentioned it here before) which causes the grapes to shrivel, concentrating the sugars.
The grapes then produce the amazing wine Tokaji Aszú, which is loaded with apricots and oranges.
For a while now, Lidl has been a champion of wines from Hungary.
I've just had a quick glance on their website and there's a Late Harvest Tokaji (£5.99, 50cl) should you wish to have a dalliance. If you're a member of The Wine Society this is a smashing choice too: Szolo Tempo Tokaj Furmint 2018 (£13.50).
Still white wines made from Hungarian furmint are beginning to impress. There's one in Majestic, Dry Furmint 2012 Royal Tokaji (£9.99, or £8.99 in a buy six deal) and another in Sainsbury: Taste the Difference Dry Furmint (£10).
I seem to have wandered from H into F, but never mind. Keep an eye out for Hungary, furmint and Tokaji.
Several years ago I visited my next H and was all giddy when I saw my first kangaroo in the wild. I was in the Hunter Valley in Australia.
It was early morning, fog was a hazy blanket rising up from the grass and in the distance I could see kangaroo shapes warily doing what kangaroos do first thing in the morning. They were jumping to it.
I'd been in the Hunter Valley for only a few days, as a guest of McGuigan Wines. My early morning wake-up call was to take me back to Sydney. However, this wasn't before I'd tasted a glass or two of a grape variety which is world-renowned for the style it develops in the Hunter Valley – sémillon. A Hunter Valley sémillon begins life in a quiet way, but if it is left to age for several years in bottle, it develops notes of honey and notes. It is quite delicious. Ah, I love that wine has a life of its own.
Now, where to next with my H. Well, I could say Hawke's Bay – one of the best and oldest New Zealand wine regions. Or I could say Hermitage – the famous region in the northern Rhône renowned for its red wines.
Or I could say the word honey. Because mead is created from honey, and honey is created by bees, and we all want to save the bees, right?
News has arrived in my emails of Loxwood Meadworks Pure Mead (RRP £15, 75cl, from loxwoodmeadworks.com and independents). It is a bespoke blend of honey, crisp and refreshing with a light honey sweetness and can be chilled and enjoyed like a white wine, or poured over ice.
I like things that big up the bees and Loxwood has pledged 10 per cent of its profits to bee charities. It is a partner with the Bee Friendly Trust (Instagram @beefriendlytrust).
l Jane is a member of the Circle of Wine Writers, on social media as One Foot in the Grapes. She is also an approved programme provider for the Wine & Spirit Education Trust. Email [email protected]
The weather hasn't been great. My heating has been switching itself on. But it's July!
It's been miserable all round.
My lockdown accomplice daughter flew the nest as soon as restrictions began to lift. I was sad and clasped the dog. I also clasped a glass of pink wine from Aldi.
I was lucky to have a sneak preview of the limited edition Sud de France Cuvée Rosé 2019 (£5.99) before its July 13 debut in store.
It's a four-grape blend, with grenache taking centre stage, and includes a new grape to me – caladoc. My verdict? Well it's a pretty wine, slightly tropical with a lovely zesty note.