Discover excellence at Inkden Tattoo Studio
In vibrant Blackpool, where artistry meets skin, Inkden Tattoo Studio has carved a niche as a true gem in the world of ink. If you're contemplating your next tattoo journey, here's why Inkden should be at the top of your list.
Watch more of our videos on Shots! 
and live on Freeview channel 276
Visit Shots! now
A Stalwart Among the Best:
For years, Inkden Tattoo Studio has proudly stood as one of the top three tattoo studios in Blackpool. This prestigious accolade is a testament to their unwavering commitment to excellence and innovation in the art of tattooing.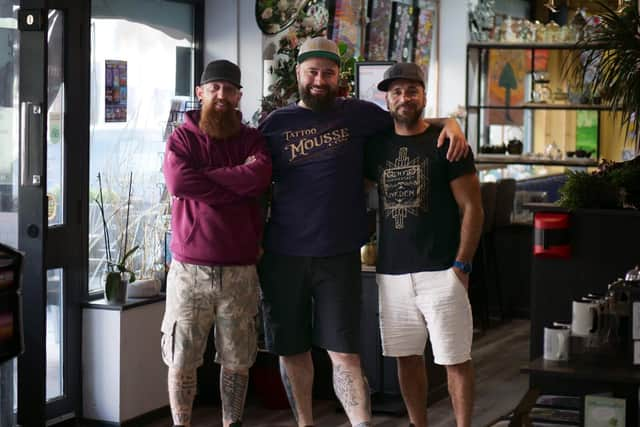 At Inkden, they've taken hygiene to the next level. With a coveted 5-star hygiene rating, you can rest assured that your tattoo experience will be as safe as it is breathtaking. Their meticulous attention to cleanliness ensures a worry-free and enjoyable session.
Step inside Inkden, and you'll find a team of award-winning tattoo artists who are passionate about their craft. Each artist brings a unique style and vision to the table, ensuring that your tattoo is not just ink on skin, but a masterpiece that tells your story.
Your Vision, Their Mission:
Inkden Tattoo Studio prides itself on its customer-centric approach. Their mission is clear: to create the best possible tattoos while ensuring a friendly and comfortable environment for every client. Your ideas and expectations will not just be met; they'll be exceeded.
But the Inkden experience doesn't stop at tattoos. Right next door, you'll find Tea Amantes - Tearoom & Gallery. This charming establishment caters to your culinary cravings and, as a special treat, offers a generous 15% discount on meals and drinks on the day of your tattoo session. It's a perfect way to nourish both your body and soul during your visit.
Inkden Tattoo Studio isn't just a place to get inked; it's a destination where art, passion, and hygiene converge to create an unforgettable experience. Whether you're a seasoned tattoo enthusiast or taking your first step into the world of ink, Inkden is where your artistic journey begins.