Who's The Daddy: When exactly did Hallowe'en turn into a thing?
Without wishing to turn this column into Old Coot's Weekly any more than it already is, exactly when did Hallowe'en turn into a thing?
Watch more of our videos on Shots! 
and live on Freeview channel 276
Visit Shots! now
Back in the day, before Mischief Night was rebranded as some kind of Christmas 2.0, the evening of October 31 was a Purge Lite, where a few short hours of low level crime and public order offences were casually laughed off by the authorities as youthful high spirits that occasionally got out of hand.
Bangers jauntily pushed into dog poo on neighbours' front steps and then lit, good old-fashioned knock and run (broke my arm doing that in 1982, in what John Lennon would've called Instant Karma) and middle-aged men's beloved gnomes kidnapped from front gardens who then sent postcards to their irate owners from exotic destinations in Europe and North America, or wherever their captors' mums and dads took them on holiday.
You know, good clean fun that may or may not end in an appearance in Magistrates' Court or a short, sharp shock in borstal.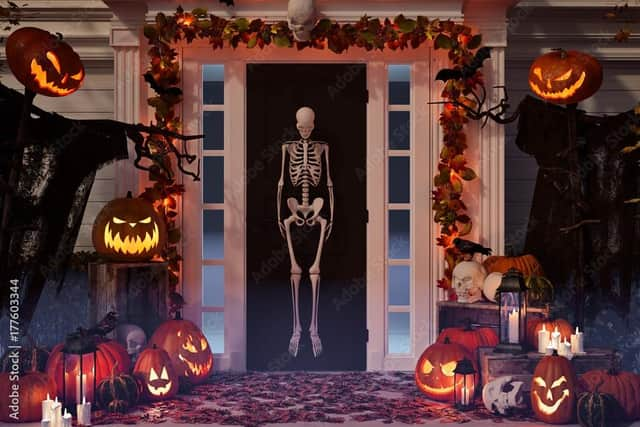 Like Prom Night, the obesity epidemic and loudly foghorning every thought in your brain in bars and restaurants when "inside voices" would be way more appropriate, it's just another custom that we've imported from the States.
And our adult kids have fully embraced it. Daughter #1 and her boyfriend went to a Hallowe'en party last weekend as Posh and Becks, while daughter #2 and her creative LIPA housemates went to a do as the scummiest things in their shared student house; so mould, damp, a broken dryer, slugs and freezing cold.
Their massive house is in Liverpool's Georgian Quarter, a spectacular area of the city which is catnip to TV companies shooting authentic looking costume dramas. Which is ironic really as their house is positively Dickensian.
It's like one of those places you see on Homes Under The Hammer where Dion Dublin does his best to be positive about it in the "before" segment, but once it's been done up by an experienced developer, a local estate agent pays a flying visit at the end of the show and values the place at around a million quid.
But Hallowe'en though. If for some reason you get the urge to be terrified, sickened and appalled, just buy a paper or turn on the TV news, which have had the look and feel of the first 20 minutes of an apocalyptic disaster movie since the first Covid lockdown in March 2020.
Having a large dog with a short fuse and a thunderous bark is a very good thing to have when there are trick or treaters around though, second only to gunshots. It's like the old Peter Kay routine, when there's a knock at the door why to dogs always think it's for them?
But people who revel in this time of year, I salute you. For us, it's a perfect hat-trick of abject misery. Hallowe'en, Bonfire Night (first whizz-bang goes off and the dog has a nervous breakdown) and the clocks go back, so pretty soon it'll start going dark around noon. Soon be Christmas.
To read more Who's The Daddy click here