Who's The Daddy: Weekend away spoilt by train journey from hell
I've thought for a while now that this country is OK unless you want to go anywhere or do anything, particularly if you're planning on getting there by train.
Watch more of our videos on Shots! 
and live on Freeview channel 276
Visit Shots! now
Anyone who has had the misfortune to travel by rail over the last few years, brothers and sisters, I feel your pain. Four years ago I had to use it to get to work every day for three months after an accident meant I couldn't drive, and I'm not ashamed to say it broke me.
Last weekend me and the boss planned a weekend away in Edinburgh, just the two of us, but we made the schoolboy error of booking tickets on an Avanti train. Oh boy, what a mistake that was. Incidentally, did you know that Avanti is Italian for "incompetent", "inexcusably late" or "cancelled"?
It was due to leave Lancaster station at 10.09, and after lots of announcements about the line being blocked by a broken down freight train near Oxenholme, and then loads more saying there was no further information, we boarded at 12.09, Avanti closed the buffet car at 12.30 (good work, fellas. Are you trying to antagonise your paying customers on purpose?) and we eventually departed Lancaster station at 1.17pm. Just the 187 minutes late. Which then unexpectedly terminated in Carlisle, where Avanti turfed us all off.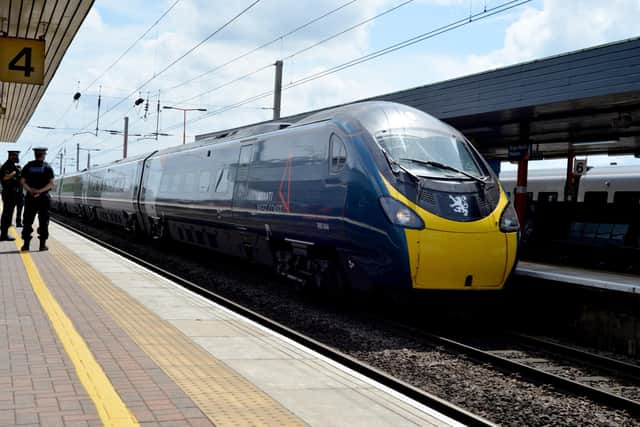 Then an hour of chaos, where nobody from Avanti seemed to know what was happening, until a rumour spread that there was a replacement bus service to Edinburgh. So we saw a long queue, joined it, then two-and-a-half hours later (and six hours late) we arrived in Scotland's capital city. Honestly, I've seen toddlers' Fisher-Price My First Train Sets run more competently.
Things go wrong. Train breakdowns and bad weather. We all get that. But what's unacceptable from Avanti is not telling its passengers what's happening, when they're stranded miles from home, some with small children and babies, travelling alone or with a (now missed) flight to catch at the other end.
It was only down to the calmness and good humour of the hundreds of massively inconvenienced passengers, whose only common bond was having the misfortune to book tickets on an Avanti train, that there wasn't some real bother.
Avanti said everyone was entitled to claim 100 per cent of their fare through its Delay Repay service on its website, which is as complicated and convoluted as possible, probably in the hope the vast majority of disgruntled passengers will give up. And dealing with its customer helpline is like an episode of The Crystal Maze.
When we finally got to Edinburgh we had the most wholesome weekend imaginable, visiting Holyrood Palace, Edinburgh Castle and the National Gallery, without setting foot in a bar or a shop. Surely some sort of record for a middle-aged couple.
The journey home with TransPennine Express was frictionless, unremarkable and took just over two hours. Operator of Last Resort? Avanti, how the hell you kept your contract, God only knows. Poll Tax riots are organised more professionally than you.
To read more Who's The Daddy click here