Who's The Daddy: This time my back pain has 'gone' a step too far
And then it went BANG! Anyone whose lower back has ever "gone" is all too aware of the otherworldly pain and "Oh please God, no!" terror as your muscles overstretch and then snap back in a vengeful act of self-preservation.
Watch more of our videos on Shots! 
and live on Freeview channel 276
Visit Shots! now
I had a feeling our holiday in Santorini was going too well to be true. And one Tuesday morning in the shower, while leaning over so very slightly to the left to scrub the sole of my left foot, I was proved right.
Ever since it first "went" while doing up the laces on a pair of Nike Blazers in 1985 aged 15, it has regularly let me down at the precise moment I just needed it to do its job.
Like when I slipped a disc a month before our wedding in 1998, at lunch on a family holiday to Ibiza in 2007, and tore ligaments putting on a sock getting ready for work two months before lockdown in January 2020.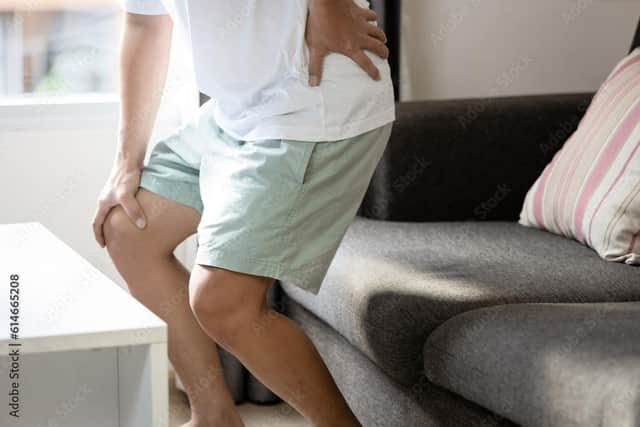 What caused the latest incident, which meant the cancellation of a golden five-hour sunset catamaran cruise around the island booked for later that day, is anyone's guess. Lounging around on sun beds all day, sleeping in an unfamiliar bed, walking miles up and down the steep steps of Fira and Oia in flip flops, disgruntled readers sticking pins in a Who's The Daddy? doll, who knows?
I'd like to think I'm reasonably fit for a man of my advancing years (10,000-plus steps a day and four lung-bursting exercise classes a week, a healthy BMI score - 22 - and a high protein, high fibre, low carb and zero sugar diet) but have the flexibility of a wooden deckchair that's been left out all winter on the end of a pier.
What's that you say, why don't you try Pilates? Tried it, and it has helped in the past but there's two problems with it.
1. Me. I'm rubbish at it, and can't tell the difference between pain and injury. The last time I did it I bent over a bit too far and was in agony for a fortnight.
2. My local gym is frequented by a lot of women in their late teens and early 20s, often I'm the only man in the class and the oldest by at least 30 years, and I don't want them thinking grandad's only turned up for a perv.
I'm not sure what'll come first, retirement or the glue factory.
To read more Who's The Daddy click here