Who's The Daddy: Oh to be young and independent and enjoying life
Parents of grown and flown kids, back me up. You never truly come to terms with visiting your adult children in their own houses.
Watch more of our videos on Shots! 
and live on Freeview channel 276
Visit Shots! now
Daughters #1 and #2 both moved to Liverpool and Manchester some time ago and have absolutely zero intention of ever returning to sunny Lancaster.
The Bank of Mum and Dad is rarely, if ever, called upon for a state sponsored bailout, unlike in 2008 when our financial institutions behaved like drunken high rollers in a casino on a winning streak that they thought would never end. It did. And the greedy, clueless scumbags came to us, cap in hand, to save their skins, only to fleece today's borrowers with interest rates not seen since the last days of Britpop.
In fact, daughter #1, who has moved jobs three times in a year since graduation last July, each time for a hefty raise, is fiercely proud of her financial independence, as is daughter #2, who chose to stay in Liverpool this summer and got a job to pay her way.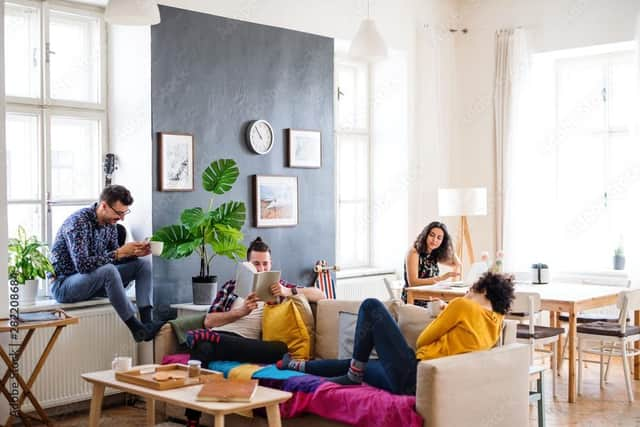 Put it this way, when the first payment landed in her account she used it as leverage on her other, degree related, job to get a raise on that. Honestly, it was one of the proudest days of my life.
Aged 23 and 21, they're both tuned in to their Spidey senses which tingle if they're being undervalued and underpaid at work, and they do something about it.
Daughter #2's latest part-time job is the stuff of dreams, in that she clocks on the minute her shift starts and clocks off the minute it ends.
Anyway, visiting your grown-up kids. Daughter #2 has just moved into a student house in a part of Liverpool that often doubles as 19th century London in lavish BBC costume dramas.
And daughter #2 and her friends are renting what appears to be Bob Cratchit's house. It's a big old place and is pretty cheap too, when you compare it with the penthouse suites trustfund rah-rahs slum it in their three years up North.
When you're young and surrounded by your friends, you don't give a stuff where you live. Our student house in the early 90s didn't have a functioning bathroom. We didn't care, we played sport every day and showered in the changing rooms for free.
The line was drawn for daughter #2 when I wandered into the subterranean lounge and saw a dead mouse in the middle of the rug. Traps have since been set but their landlord is welcome to borrow our world-class mousers anytime they like.
To read more Who's The Daddy click here