Who's The Daddy: Now the kids have left, the dog and cats rule the roost
Since our kids grew up and left home to start their own lives there's been somewhat of a power vacuum in our house, which has now been filled by their ageing childhood pets that we're now stuck with.
Watch more of our videos on Shots! 
and live on Freeview channel 276
Visit Shots! now
Me and the boss now effectively work for two rescue cats in their early teens and an eight-year-old sighthound who doesn't like crows, border collies and bearded men in flat caps. And they're giving us the runaround.Since our kids stopped teething some time in the early 2000s, we'd forgotten what broken sleep was like. Eight hours during the week and 10 at weekends wasn't uncommon as we got up when we wanted.
Cats, on the other hand, like to charge around the house at 4am for no reason at all, yeowl their heads off in the middle of the night because the dog's helped himself to their food, and noisily make use of their litter tray like some demented tap dance. All of which plays havoc with our middle-aged bo-bo's.
Twenty-plus years ago, it was possible to function and go about your working day after a teething infant had kept you up half the night (confession time here, I was world-class at feigning sleep. Sorry, boss). There's a reason for that, you were 20-plus years younger than you are now.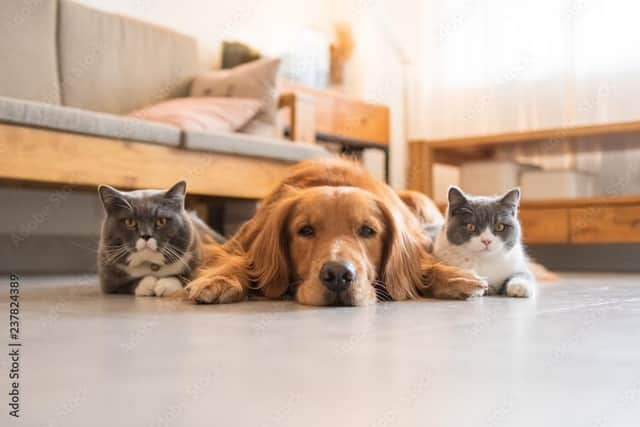 If you have cats, then tell me if ours are strange or just standard. They're ALWAYS on the wrong side of an external door. They do that demented, ghostly yeowl that screams "LET ME OUT OR I'M GOING TO DO SOMETHING AWFUL ON YOUR FLOOR". And most days they noisily yak up whatever they've wolfed down a minute or so earlier.
The dog, on the other hand, likes digging in his bed to make a nest. Noisily, in the middle of the night. I say bed, what I mean is our sofa, which I tuck him in on when we call it a night, and it sounds like a drum solo from Animal out of the Muppets. And as of this week, the not-so-little ****** has worn a hole in it.
Anything else? Oh yeah, none of them particularly like each other. Even the cats, who may be brothers or may not. There's an uneasy truce most of the time that can escalate into an all-out war filled with growls, screams, teeth and claws in literally the blink of an eye, what with one being a land shark and the other two finely honed killing machines hired to stop a mice infestation 14 years ago, especially when we're having chicken for dinner.
The fatter and less friendly of our two cats, dubbed Six-Dinner Sid after he moved in five doors down a couple of years ago because the food was better and there's a cat flap so he can come and go as he pleases, has been around a lot more over the past week. We're guessing it's because his co-owner is away and we're his fallback option. Makes you feel all fuzzy inside.
To read more Who's The Daddy click here