Who's The Daddy: It's liberating to have a headful of nothing for days
Honestly, the days are just packed. Wake up around 8am after nine hours of unbroken sleep so revitalising it feels like medicine. Put towels on sun loungers and head off to breakfast that someone else has made for a change and that someone else will wash up.
Watch more of our videos on Shots! 
and live on Freeview channel 276
Visit Shots! now
Open a book, click on Spotify and spend the morning sprawled out under cloudless blue skies and blazing sunshine, only breaking off for a walk around the hotel grounds or a dip in one of its pools, to stave off deep-vein thrombosis if nothing else.
Then what do you know, it's time for lunch. There's a supermarket a six-minute walk away (timed it) where we buy three days' lunches for the price of a couple of small white wines (€20. No, really) in a bar overlooking the Aegean Sea.
Olives, feta, tomatoes, hummus, crispbreads, fruit and water. And it's more than enough as we spend half an hour on the balcony, lazily munching it down like we've got all the time in the world - which for once in our lives we have.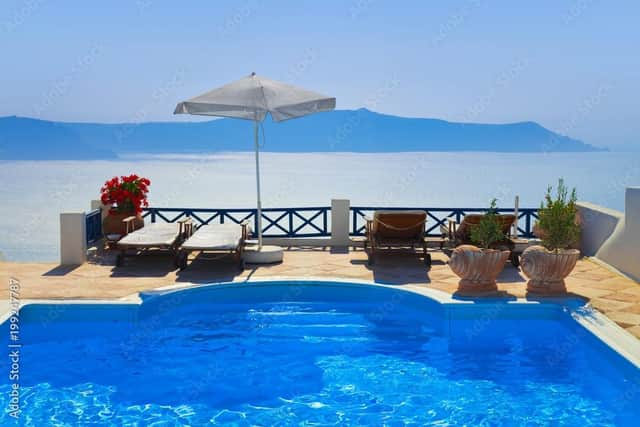 After that, we clock on for an afternoon of more of the same of what we did in the morning. We devour books, albums and podcasts like we review them for a living.
It's only when you empty your brain of all the nonsense your job requires you to cart around that you realise how liberating it feels to have a headful of nothing for days on end. The only major decision we make during our time in Santorini is which of our hotel's pools we're going to lounge around all day.
Around 5pm most days the hotel's gym gets a half-hour visit. Nothing too strenuous, just enough to keep things ticking over so the next spin class back home doesn't end in hospitalisation.
And then the golden hour. The best bit of the day is the time between a shower - when you wash off the day's gunk from your sun lotion, sweat and whatever the hotel's younger, more excitable guests have left in the pool - and applying aftersun before heading out for dinner.
Spend the evening wandering around Fira, toddling in and out of all the shops while trying not to catch the eye of the owner in case you end up chatting and buy a 4ft glass barracuda that you haven't got a hope in hell of getting back home in any fewer than 40 pieces.
To read more Who's The Daddy click here