Who's The Daddy: Child free holiday bliss – except for everyone else's
You know what we like to do on holiday now our kids have grown up and moved out? Yep, whatever we want.
Watch more of our videos on Shots! 
and live on Freeview channel 276
Visit Shots! now
While someone else's hot-faced, shrieking children are making a nuisance of themselves around the hotel pool, doing their best to ruin innocent bystanders' holidays that they've saved up all year for, I plug in my headphones and press play on The Orb's Adventures Beyond The Ultraworld (honestly, it's like anaesthetic) and drift off back to 1991.
Apocalyptic holiday rows? Yeah, we used to have those. Even the most even-tempered of kids, like ours were when they were little, kick off like they're on a Poll Tax riot at least once on a sunshine break, usually (always) over less than nothing - like the Wi-Fi's not as quick as the premium service we pay through the nose for back home.
In Santorini last week, during an Olympic standard sunset so ridiculously beautiful that the hundreds watching applauded as it plopped into the Aegean Sea, one shrieking 2ft horror was expertly dragged out of a museum horizontally, literally kicking and screaming, by his no-nonsense mum.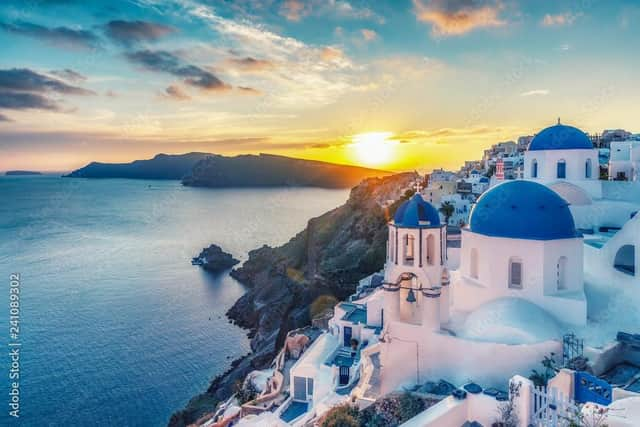 Fair play, although it did look like she'd had plenty of recent practice. Tiny drill sergeants in meltdown mode, stomping around priceless, fragile Greek treasures teetering on high pedestals are a ruinous accident waiting to happen.
In darker moments, I've often thought of printing and marketing a T-shirt specifically for holidays in letters the size of your thumb, "I didn't come all this way to listen to your screaming kid." Think of how many fights around the luggage carousel that could start.
Holidays are great though, aren't they. It's only after a couple of days that you appreciate just how magical they are. All your problems are about 2,000 miles and a four-hour flight away, you forget what rain and cold feel like and what a busted flush England is now that everything costs a fortune and nothing works.
One of the best things is how your little aches and pains melt away after a day or two lounging around in the sun. Without going all tree-hugging hippy, that'll be the lack of stress and the inflammation in your body dialling down a few notches. That or your third cocktail at lunch.
The thing is with us, someone really good always dies when we go away. Like every time. In the past it's been Dave Allen and Tony Wilson, this time it was Sinead O'Connor. A genuine talent and a terrible loss.
To read more Who's The Daddy click here