Who's The Daddy: Alcohol isn't fun – why waste time feeling rotten
I'm going to say something now that you're not going to like. But remember this, in the 17 years I've been writing this column, I've always had your best interests at heart.
Watch more of our videos on Shots! 
and live on Freeview channel 276
Visit Shots! now
When you stop drinking, your life improves.Alcohol is a weird thing. It's the only drug that, when you don't take it, people can be funny with you.
Imagine turning up to a works do and everyone was on, say, ecstasy. And when a workmate offered you some you say: "No thanks, I'm alright." And they reply: "Go on, what's the matter with you? Don't be boring. Just have half then."
When you see it like that, it does look a bit weird.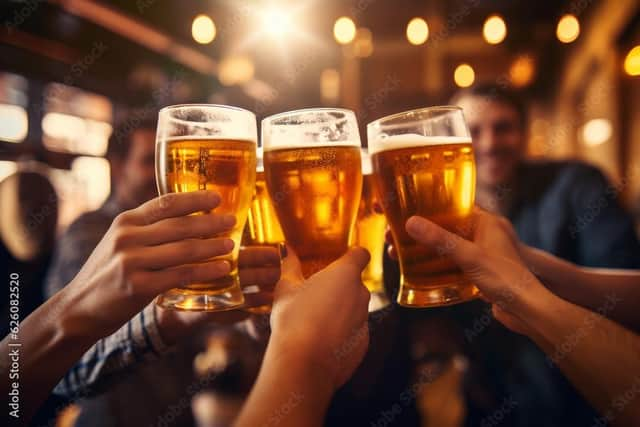 As someone whose career kicked off as an early 90s identikit journalist from central casting, let me tell you back then the industry was absolutely pickled in booze. We spent about as much time in the working men's club across the car park from the office as we did in the office.
It felt like, for the most part, we were either drunk or hungover. One morning the news editor answered the phone and shouted over: "I've got your dad on the line. He says he hasn't seen you in three days." I was on work experience. They took me on soon after.
I've seen it ruin careers, split families and kill good people too many times. Yet alcohol (well technically it's ethanol, an actual poison) is marketed as fun.
In Martin Amis' sprawling 80s masterpiece Money, the main character John Self says he's addicted to the 20th century. Having read it a few times, I'd narrow that search down a bit and say with confidence that what he's addicted to is alcohol.
There's one bit where he's chatting to the author (big literary no-no, but there you go) and when Self offers him a lunchtime glass of red from his carafe, Amis says: "It all comes down to choices, doesn't it? Do you want to feel good in the evening or do you want to feel good in the morning? It's the same with life. Do you want to feel good young or do you want to feel good old? It's one or the other. Not both." And that just about nails it.
Being off the sauce gives you the one thing no amount of money can buy. Time. When you hit middle age, Sunday morning hangovers last into Monday, often Tuesday and sometimes Wednesday. And we haven't got that long left, so why waste it feeling rotten?
But the thing with booze is it's a lot of fun, well the first 20 minutes or so when the alcohol level in your blood is rising and you feel like Superman or Wonder Woman. I've had some great times while drunk and also pulled the stupidest and most regrettable of stunts. You have to look long and hard for something to replace those highs.
However, after two months off the sauce, it is nice waking up on a Sunday morning without a hangover like a nuclear war and next to a half eaten Sugar Puffs sandwich.
To ready more Who's The Daddy click here