Blaise Tapp: Beano celebrations are in tune to the world around us
Apart from warm, flat beer and an insistence on gravy with almost every meal, there is nothing quite as British as The Beano.
Watch more of our videos on Shots! 
and live on Freeview channel 276
Visit Shots! now
It's a comic which many of us - the publishers reckon the figure could be as high as 27 million Brits - have read at some point in our lives.
Even though I haven't thumbed its pages since the days of Thatcher and cigar adverts on the telly, the mere thought of the Beano evokes pure nostalgia. Just thinking about the tales of mischief and school pranks takes me right back to a simpler time, when there were only four channels and having Wall's Viennetta for afters on a Sunday was the height of sophistication.
Times change of course, and the Beano looks a lot different to how it did when it launched in 1938. In recent years there have been a number of tweaks and changes made to some of the principal characters and now, to mark the publication's 85th anniversary, five new characters have been added to the Bash Street Kids: Harsha, Mandi, Khadija, Mahira and Stevie Starr to better reflect Britain in the 21st Century.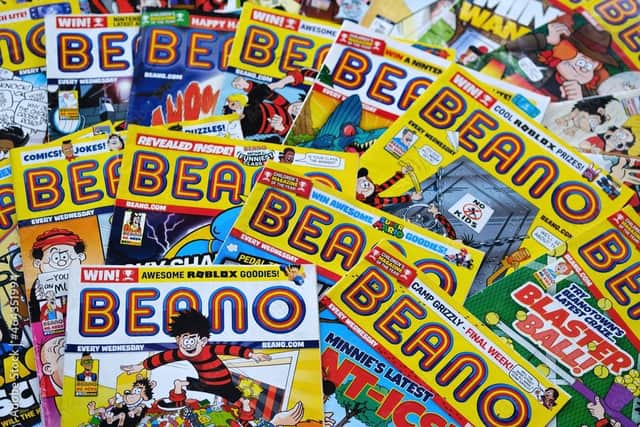 This outdated picture, they quite rightly argue, doesn't reflect the society that today's Beano readers inhabit and, if they want to retain existing readers, not to mention attract new ones, they need to move with the times. It was the same motivation which prompted management at the comic to rename key characters Fatty and Spotty, Freddy and Scotty a couple of years ago.
On reading the comments section of news websites that have carried the story about The Beano's changes, there are some who strongly disagree, although I doubt whether any have picked up a copy since the late 1970s. The word woke crops up quite a lot in such posts and comments but, like the good people at The Beano, I don't see it as an insult to be accused of being in-tune to the world around us.
Tens of thousands of copies of The Beano are sold every week which, in this digital age, is very impressive and is testament to its enduring relevance. We live in different times to those of our grandparents and recognising that fact is a strength rather than a weakness.