Morecambe XL bully owner says the breed shouldn't be banned - and her 'little princess' won't hurt anyone
An XL bully owner from Morecambe says she is devastated to hear about the proposed dog breed ban by the Government.
Watch more of our videos on Shots! 
and live on Freeview channel 276
Visit Shots! now
Emma Jepson, 35, adopted Roxy – a Ridgeback/XL bully crossbreed – in October 2022. She calls the four-year-old her "little princess" and says she's been fantastically trained.
But proposed laws could mean it would be an offence for Emma to own Roxy – who she credits with "saving her" after losing her Staffordshire Bull Terrier.
Emma, an admin assistant, said: "Hearing about the ban is devastating – Roxy is my little princess.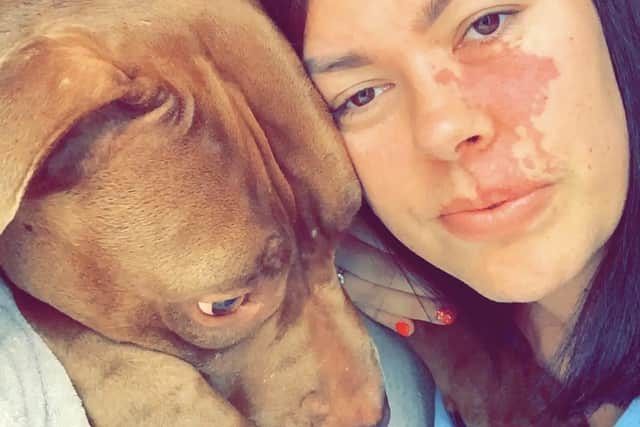 "She doesn't have a bad bone in her body – she loves little kids and gives them kisses and cuddles.
"I trust her 100% – she's so soft."
Emma first adopted Roxy after she was "dumped by her breeder" while heavily pregnant.
She'd just lost her 14-year-old Staffie, Jess, to old age – as well as suffering her own miscarriage.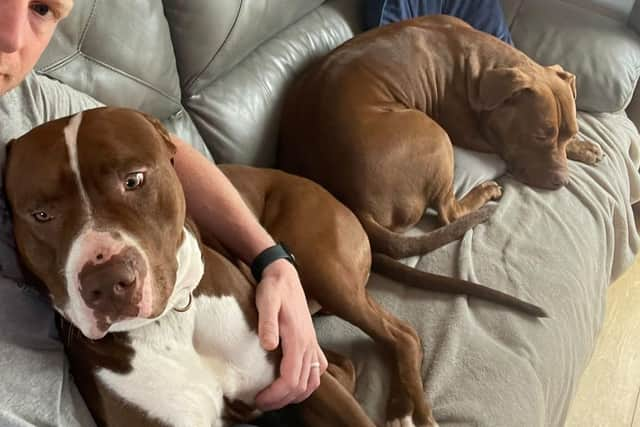 But she says Roxy is her "baby" and when she does have her own children, they'll be "her babies alongside my dog babies".
Emma said: "Three weeks short of Jess' 15th birthday, she'd gone a bit frail. You used to be able to throw a ball for her all day – but she was an old lady. She stopped being able to jump on the couch.
"We sat on the sofa next to her one day, and she lifted her head up as if to say, 'Mummy, it's time.' We took her to the vet, and she died in my arms.
"But then we got Roxy and it was so nice to have a dog waiting for me to come home again.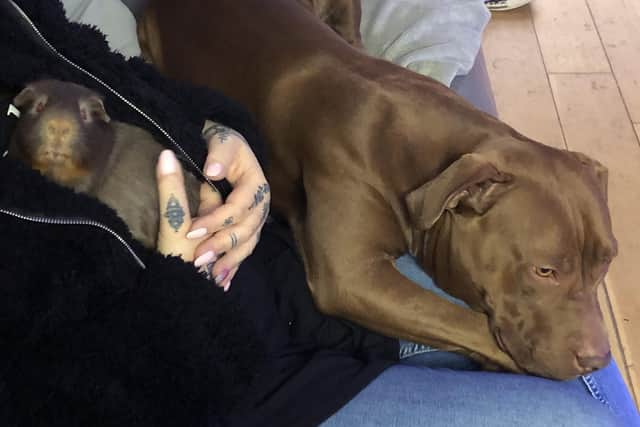 "Within a few hours of getting here, she settled in so quickly."
Emma regularly lets Roxy off the lead to play with her "four doggie boyfriends" in the park. She's also part of a "dog meet-up" group with other XL bully owners.
She says Roxy will be "devastated" if she has to stay on a lead and wear a muzzle.
And despite XL bullies being labelled "hard" dogs alongside Staffies and Rottweilers, other members of her family love their "dangerous dogs".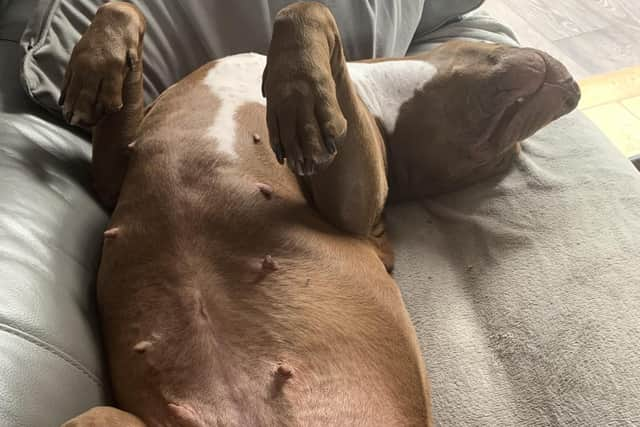 Her mum and sister are both proud owners of two Staffies each and say they're harmless.
Emma said: "Dogs shouldn't be treated as status symbols – trust me, I used to be a prison officer. A lot of the lads had photos of these dogs in their cells.
"But my dogs aren't hard – and they weren't brought up in an aggressive way.
"If you bring up your dog in a fearful way, that's how they're going to act."
Alongside Roxy, Emma also owns 15-month-old Hewie – who is part-XL bully – and says he's "just goofy".
The pair love to give kisses to her guinea pig, Teddy Bear.
She believes the ban will set a bad precedent for certain types of dog breeds while ignoring cases of aggression in others.
"Every time I've been bitten by a dog, it's been a Chihuahua," she said. "My dogs don't attack others but every time one goes for them, I can guarantee it's usually a small, yappy dog.
"But it would be unfair to blame a specific breed – I wouldn't call for a ban on Terriers just because of that."
Emma worries the ban may lead to hundreds of XL bullies being destroyed if kennels are too full to take them.
She said: "The kennels are already overflowing and owners are panicking and getting rid.
"And you know what happens to dogs who can't get adopted.
"Roxy just wouldn't be able to cope with a muzzle. She can't understand she's done anything wrong.
"I'd be devastated. They're such fantastic kids."