Lancaster University academics in call for ban on meat at campus food venues
Over 30 Lancaster academics have signed an open letter calling for 100% plant-based catering on UK university campuses, including Lancaster University's Bailrigg Campus.
Watch more of our videos on Shots! 
and live on Freeview channel 276
Visit Shots! now
Included among the signatories are Executive Dean of the Faculty of Science and Technology, Distinguished Professor Peter Atkinson, Director of the Lancaster Environment Centre, Professor Kirk Semple, and Professor in Energy & Climate Governance, Rebecca Willis.
The ground-breaking open letter by the campaigners at Plant-Based Universities has been signed by nearly 900 academics and notable figures.
The letter calls on UK universities and student unions to commit towards 100% just and sustainable plant-based catering which would align with their own climate goals.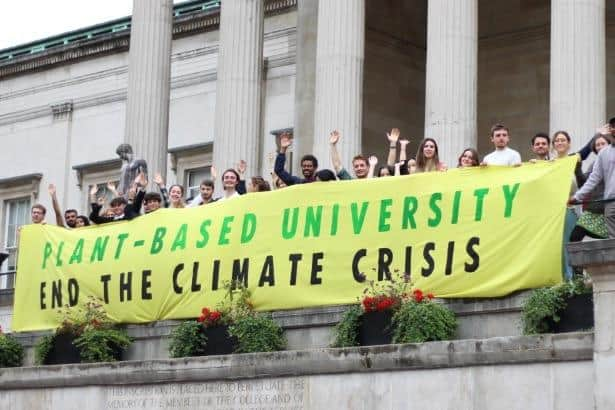 A Lancaster University student and 'Plant-based Universities' representative said: "Lancaster University has recognised that the climate emergency, sustainability, and the environment require urgent action, pledging a commitment to becoming net-zero by 2035.
"It is evident from research that there must be an acknowledgement that current food systems, heavy in animal-derived products, are a key driver of the climate and ecological crises.
"Shifting towards a plant-based catering system is the logical next step."
This is echoed by Professor in Energy and Climate Governance at Lancaster University, Rebecca Willis who said: "Reducing our consumption of meat and dairy products is an essential part of the journey to net zero.
"Showcasing plant-based food at universities is a brilliant way of introducing people to healthy, planet-friendly dietary options."
Universities' focus on fossil fuel divestments has revealed a blind spot on environmental issues caused by animal agriculture, said a Plant-based Universities spokesman.
The spokesman said: "This has been strongly evidenced in a study by environmental scientist, Dr Joseph Poore, at Oxford University, who has signed the campaign's open letter in now-famous meta-analysis of approximately 38,000 farms across the globe demonstrates beyond all reasonable doubt that the production of meat and dairy is causing enormous climate and ecological damage.
"Findings reveal that a plant-based shift could reduce total global land usage by 76% due to the vast amounts of crops required to feed animals, and reduce greenhouse gas emissions by 20%, exceeding the emissions of the entirety of the transport sector.
"The authors conclude that: "A vegan diet is probably the single biggest way to reduce your impact on planet Earth."
The Plant-Based Universities campaign is a student-led nationwide initiative pushing for universities and student unions to adopt 100% plant-based catering.
The group states that universities have an obligation to follow the scientific research that they produce, detailing the environmental impacts of animal farming and fishing.
The campaign is active in over 50 institutions including Lancaster University, with the group encouraging interested students to sign up to run local campaigns.
To date, the Universities of Stirling, Cambridge, Birmingham, Queen Mary, London Metropolitan, Kent, and University College London have made steps towards realising the goals of Plant-Based Universities, taking decisive
action to lead the way in protecting climate and animals.
A spokesman for Plant-based Universities said: "Lancaster University could well be the first northern university to make this vital shift and be part of a national movement to build a kinder, safer, more sustainable world."