From Centre Parcs to national champ: Lancashire archery superstar Evie Finnegan talks beginnings, butterflies, and bullseyes
It all started at Centre Parcs. Evie Finnegan was thumbing through the booklet of activities when it hit her: why not give archery a go? She signed up with her grandfather Terry and along they went.
Watch more of our videos on Shots! 
and live on Freeview channel 276
Visit Shots! now
"It was almost a joke at the start and I didn't really take it seriously because it wasn't something I'd ever thought of trying before," explains Evie who, at just 16 is regarded as one of the UK's top archery prospects after taking gold in the Barebow Junior Women discipline at the Junior National Indoor Championships last year. "I just wanted to have a go.
"I was an adventurous kid and I liked trying lots of different sports and activities, but I'd never seen anyone shoot a bow before, so I can remember sitting at the back while the instructor told everyone what to do," adds Evie. "I went up to shoot and I was dead nervous and I couldn't really do it at the start but, as soon as I shot that first arrow, that was it.
"I loved it," continues Evie, who lives in Lytham. "I liked that it was an individual sport, just you and the bow, but I was quite an energetic kid, I guess, so it was a bit of a surprise when I went into such a focused precision sport! But I think I had a talent for it and I've built on that as I've trained over the years."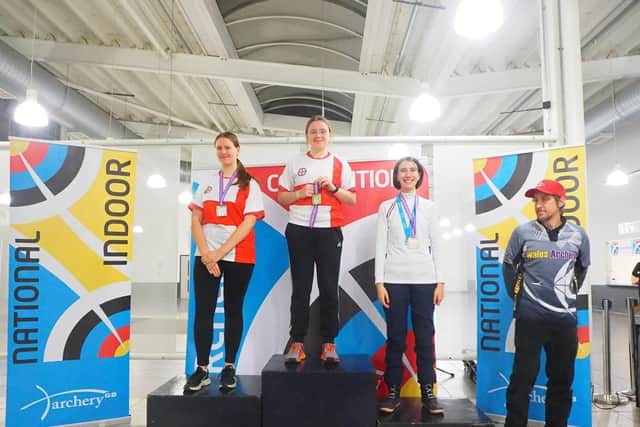 The October after that summer trip to Centre Parcs saw Evie not only celebrate her birthday but get her first beginner's bow, too. She signed up to a course in Blackpool and joined Assheton Bowmen with her grandfather, who was keen to find a new hobby after retiring. She still shoots with him to this day.
"Archery has a strong social scene; after meeting the juniors at Assheton, I slowly integrated with the adults over time by doing shoots on the weekend where you get to meet everyone," says Evie, who wanted to say a special thank-you to Alex and Roy at Assheton after joining The Bowmen of Pendle and Samlesbury last year. "I've met people from all over the country.
"Meeting so many different characters has been amazing," she adds of her burgeoning archery career to date. "I've matured at Pendle and I've learned to be more independent, which is good because, as I've gotten into more competitions, I've had to train for longer and more often. And not just shooting, but going to the gym as well, which I don't love! Not a fan.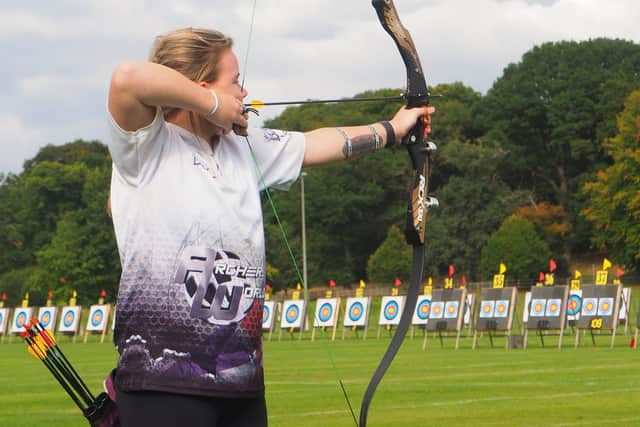 "It's also been great to join my two Lancashire teammates in the senior team [Kim Doherty and Helen Brown] at the club - they're so nice and supportive of me," Evie continues. "I've met loads of new people and the facilities are great, so Pendle has been amazing for me even though I've only been here six months or so.
"Training with people who shoot for England is brilliant. They're always quick to offer help and advice and I've developed that quality with other people as well."
The Bowmen of Pendle and Samlesbury
One of the North West's biggest and best-loved clubs, the Bowmen of Pendle and Samlesbury is legendary in North West archery circles, boasting not only a storied 120-year history, but a modern membership of around 200, ranging from novice eight-year-old juniors to experienced and competitive adult archers amongst the best in their disciplines.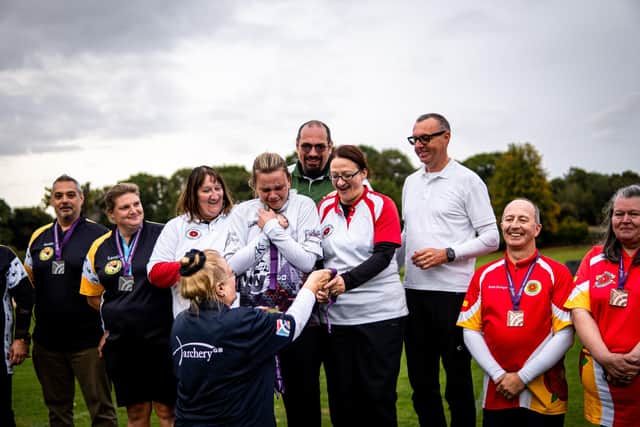 Having previously been based at the 14th-century Samlesbury Hall, the club moved to its current home on Nab's Head Lane near Samlesbury in central Lancashire in 2006, from which it runs a club offering archers use of its 20-lane outdoor range and a purpose-built indoor range. Safe to say Evie feels well and truly at home there.
And the environment is clearly having a positive effect: Evie enjoyed a stellar 2022. Already Junior National Clout Champion, Senior National Barebow County Team Champion, and Junior Outdoor Barebow Champion, she headed to Stoneleigh Park in Warwickshire for the Junior National Indoor Championships last year in fine fettle indeed.
Welcoming archers from across the country and, in some cases, from even further afield, the competition saw some of the UK's finest battle it out for medal places. During a tournament of the highest quality, grassroots competitors were pitched against archers from the upper echelons of the world rankings in their disciplines.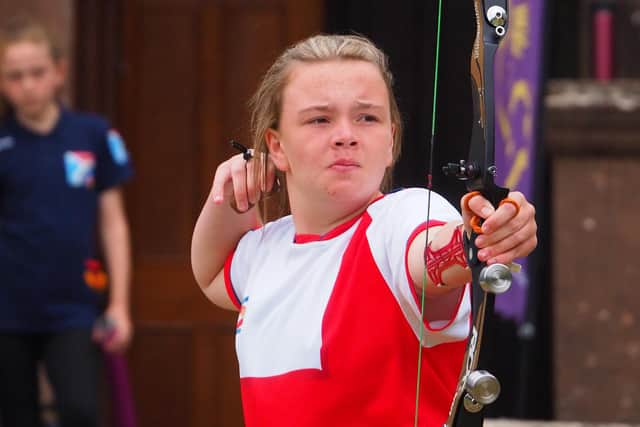 Which only makes the 16-year-old Evie's success that much more impressive. One of more than 250 junior archers across four different bow styles who came together under one roof, Evie shrugged off the pressure of high stakes and tough competition to return to the North West with gold draped around her neck despite it being her first indoor competition ever.
Given all that, it's hard to imagine Evie - who is ranked as the number one junior barebow target archer and the number 24 senior barebow target archer - struggling with nerves. But, the England Junior team and Lancashire AA Senior team member nevertheless admits she's no stranger to the odd jangle of butterflies in the pit of her stomach before a competition.
"I'd done club stuff, but my first actual competition was in 2019 in Blackpool and I was so nervous - it was a big local comp so it was intimidating," explains Evie, the holder of 14 AGB National Junior records, 32 Northern Counties Regional Junior, and 52 Lancashire County records, both senior and junior. "And I still get nerves now."
How does she deal with them and to what does she attribute her recent success? "I don't focus on the titles, I just focus on shooting," she replies. "Obviously, looking back, I'm happy with the results but, at the time, I'm just focused on myself. And I still get nerves, but I try not to overthink it and that's helped me shoot better.
"Friends help take my mind off things as well, so they're always dead supportive," Evie adds. "When I'm in the groove, there's a real element of enjoyment. Plus, with all the junior comps, there's always stuff like music on in the background and stuff like that can really help with the nerves. The atmosphere Archery GB provides is really supportive.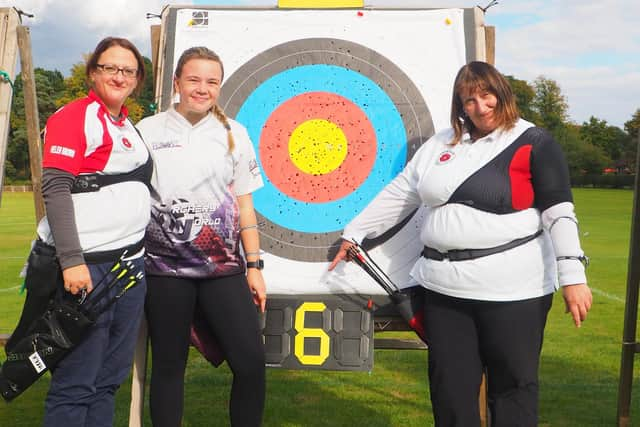 "That kind of thing prepares you for even bigger competitions as well," she continues. "I actually prefer outdoor competitions, so it was a little intimidating to have so many people in such a small space during the indoor comp, but I shot with confidence and determination, which I was pleased with. My coach and granddad were very proud, so I was really happy."
Aside from her innate skill and talent, Evie's love for archery is what stands out the most. Describing 'that something special' which comes in-built with barebow archery, she says she'll always be an archer. "No matter what, it's with me for life now," she explains. "Shooting is one of my main ways to relax and my next aim is to shoot internationally for Archery GB.
"The next target would have been the European Indoor Championships, but I've got my GCSEs this year," she remarks, reminding us all just how young she is and how much potential for improvement there remains. Does she ever think about the Olympic rings? "Nah," she says quickly. "I'd love to, but I'd need to do it in recurve. Maybe…"
Anyways, forget the Olympics; given that he helped create a national champion, how's your granddad's shooting coming along? "Well, he doesn't really do national competitions," says Evie diplomatically. "He's more of a local competition kind of guy. But my younger sister Florence recently took up archery with my dad too, so it must be a family thing!"