Jane Clare of One Foot in the Grapes enjoys New Zealand wines
The annual New Zealand Wine Week was tweaked into a virtual exploration being as people couldn't meet face-to-face.
Watch more of our videos on Shots! 
and live on Freeview channel 276
Visit Shots! now
I should have been in New Zealand right now visiting friends and wine regions. Ah well that was my dream this time last year. I can't quite put my finger on why I had to change those travelling plans. Perhaps it will come back to me.
Luckily I haven't entirely missed the New Zealand wines vibe, because New Zealand wines have visited me via the wonders of the internet. The annual New Zealand Wine Week was tweaked into a virtual exploration being as people couldn't meet face-to-face.
As part of it, I joined a Syrah Masterclass led by Master of Wine Rebecca Gibb.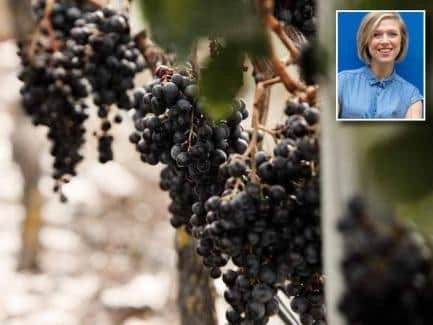 But first: Syrah or shiraz. Is there a difference?
They're the same grape variety and syrah is the French spelling. Shiraz is more in line with the English-speaking world and the Australian hot climate ripe wine vibe.
New Zealand chooses to use the Old World, historical French name. It's not known exactly when the first syrah grapes were planted in New Zealand. There's some "what ifs" and "maybes".
But around 1900 we know for sure that Italian Romeo Bragato brought syrah cuttings to New Zealand. He believed half of New Zealand plantings should be that grape variety. It didn't exactly happen. Vines languished in a research station for decades and it wasn't until 1984 when the first modern plantings finally began.
The grape is still only one per cent of overall New Zealand production, with Hawkes Bay on the North Island responsible for 78 per cent. There are some challenges growing this black grape in what is mainly a cool climate region. NZ is on the margin of being able to ripen syrah but a combination of local factors - weather, soils, location - can make it happen.
Here's some of the New Zealand syrah wines I tasted along with Rebecca, albeit through the conduit of a computer screen.
Te Mata Estate Syrah 2018, Hawke's Bay (£19.99, or £16.99 in a buy six deal at Majestic). Te Mata is one of the oldest wineries in New Zealand.
Rebecca describes the Te Mata as "a joyful wine, one it really makes me smile. It's a charming juicy-fruity wine, with gentle tannins and beautiful bright acidity."
The wine was in oak for five months allowing the natural red and black fruit flavours of the grapes to shine through.
Trinity Hill Syrah Gimblett Gravels 2018 (£25, online at Laithwaites) The warming effect of the gravel in the Gimblett Gravels wine district (Hawkes Bay) helps the syrah grapes to ripen.
Rebecca says: "What an aromatic wine this is! You can see that lifted, floral, fruit character. This is very much about preserving the fruit and allowing the aromatic to shine. The tannins are quite gentle. There's a slight textural note on the finish that tastes of Gimblett Gravels." The wine prompted Rebecca's enthusiasm: "What I love about New Zealand syrah is that natural burst of acidity. These wines always remain fresh and vibrant."
Craggy Range Syrah Gimblett Gravels (£23.50, online at robersonwine.com for the 2018 vintage). We tasted the 2019 vintage, which was fresh and young. Rebecca explained that the 2019 is a vintage to look out for.
Syrah from 2019, she says, is beginning to show succulence, perfume and vibrancy.
She says: "To me, those words encompass what New Zealand syrah is about."
Man O' War Dreadnought Syrah 2017 (£33.40, www.vinvm.co.uk) This wine is from Waiheke Island, a ferry ride from Auckland.
It has a warmer climate than other parts of New Zealand but some years the climate can be a wash-out, or other years there can be drought and the soils crack.
The weather as always can be a challenge for producers!
Jane Clare is One Foot in the Grapes, an approved programme provider for the Wine & Spirit Education Trust. Find out about an Introduction to Wine qualification, email: [email protected]
Fairtrade Fortnight is now underway (until March 7).
As ever, one of the biggest champions of Fairtrade wine - the Co-op - has a couple of offers on at this time.
Co-op Fairtrade Carmenere: Many of the small vineyards that grow the fruit for this soft and ripe red wine are owned by women. Fairtrade sales helps pay tuition fees so that children of the vineyard workers can go to university or college.
Co-op Fairtrade Irresistible Sauvignon Blanc: This zesty, fruity wine is produced in the Cape, South Africa, and sales have helped to fund community projects. Both wines are reduced from to £5, from £6, from February 24 until March 16.