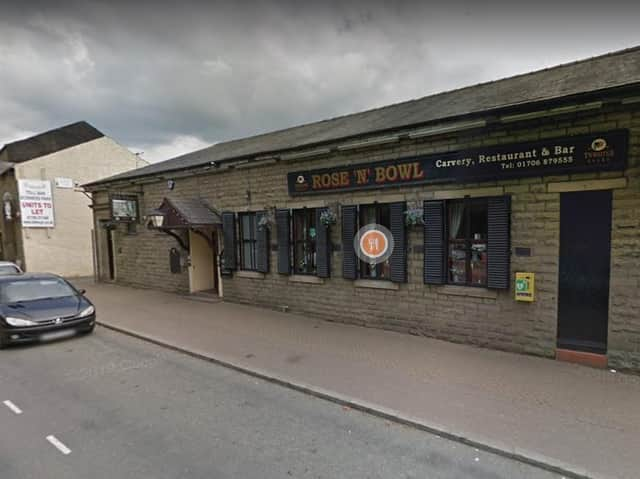 The Rose n' Bowl in Bacup where the two people were mown down.
Officers say the two people suffered serious injuries and were rushed to hospital for treatment.
The driver, who mounted the pavement before crashing into them, made off from the scene.
The attack happened at around 1.45am outside the Rose n' Bowl in Newchurch Road, Bacup.
A spokesman said there had been an altercation and one of the people involved left before returning in a vehicle and deliberately drove at them.
"This is a very serious incident where it would appear that a vehicle has been used as a weapon and driven deliberately at two people causing significant injury to one casualty," said DI Mel Kelly.
"Our enquiries are on-going in an effort to trace the vehicle involved and its occupants. I would appeal to anyone who witnessed the incident or who may have CCTV or dashcam footage, to get in touch."
One of the casualties, a 23-year-old from Rossendale, suffered serious leg injuries. The other, an 18-year-old, from Rawtenstall, was not as badly hurt.
Police say they are trying to trace the occupants of the vehicle. Anyone with information should contact police on 101 quoting log number 0211 of July 5th.