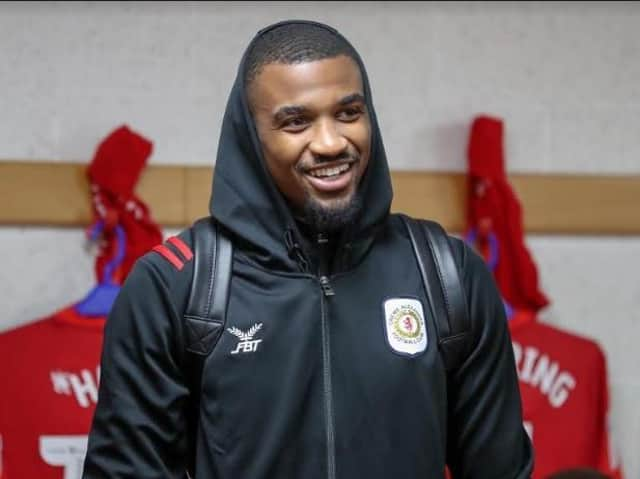 Christian Mbulu (photo: www.kevinspictures.co.uk)
A GoFundMe page set up in his memory topped £16,000 in under 24 hours to help his mother and provide security for his baby daughter.
And a 34-kilometre run/walk by team-mates at Morecambe on Friday June 12 will also be fundraising to support the family - Christian wore the number 34 shirt at the club.
The London-born footballer was found dead when police were called to his home in Greenfinch Avenue, Cottam last Tuesday.
His death is not being treated as suspicious and a report has been sent to the coroner. A post mortem has been carried out, but an inquest has yet to open.
The player signed for Morecambe in January and had played only three times for the Shrimps before the season was halted by the coronavirus pandemic.
His agent Dominic Yarwood told the Post: "Christian was just a lovely, lovely lad. You won't find anyone in the game who would say anything bad about him.
"His smile lit up a room, he was kind-hearted and the response to the GoFundMe appeal is testimony to that.
"Players and fans from all the clubs he played for - Millwall, Motherwell and Crewe - as well as those at Morecambe have rallied round. This is the football family coming together.
"Anyone who had the pleasure of crossing paths with Christian will remember him as a genuine, humble, pure-hearted soul, who would do anything for anyone.
"Christian will never be forgotten and he will forever live on in the hearts of those he loved and those who loved him.
"Every penny we raise will go towards the family, his mother and his daughter who is just months old.
"Morecambe have been excellent and so too the PFA. It has been so touching to see how many people have come forward - players, fans and others outside football - to show their support for his family."
Amongst those who have pledged donations are a number of Preston North End players including Billy Bobin, Ryan Ledson and Ben Davies.
Next week's Morecambe marathon (#34ForMbulu) has been organised by defender Sam Lavelle "in memory of a good friend and teammate."
Players will set off from the Globe Arena on Friday at 11am. They will run/walk in groups of six, keeping two metres apart.
Anyone wishing to donate via GoFundMe can visit the page "In Memory of Christian Mbulu (06:08:96 - 26:05:20)" and pledge money.