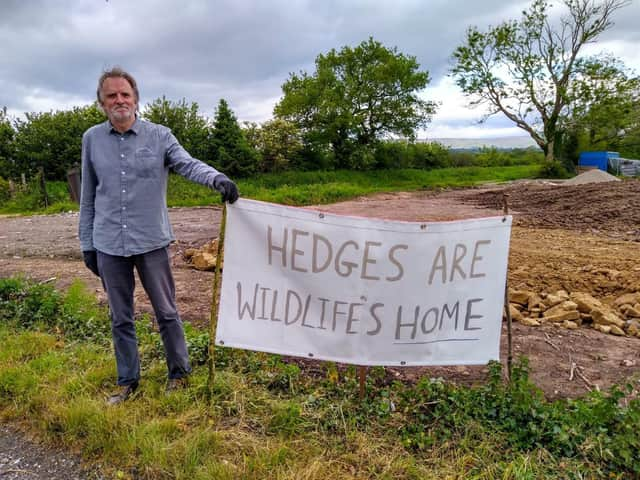 A Longridge Environment Group protestor at the development site
Longridge Environment Group's Hedgewatch team made an official complaint to Preston City Council saying it was made clear by the council no hedges were to be removed before work started at the site north of Inglewhite Road.
LEG spokesman Martin Brown said: "Hedgerows are vital to the survival of our wildlife and are disappearing from our countryside at an alarming rate. Hedgerows are generally protected by law and permission is required to remove them. This is particularly the case during the nesting season from March to August."
Coun Peter Moss, Cabinet member for planning and regulation, said: "Planning permission has been granted for five dwellings including removal of part of the hedgerow. Under the Hedgerow Regulations 1997 the proposed removal was assessed when considering the planning application. Having received complaints about the work on site, enforcement officers are investigating and liaising with the developer and their agent to rectify any breach that may have taken place."
Longridge Environment Group's protest at the development site
Developer Ben Lee of NGJ Holdings Ltd claimed: "The relevant authority were called out due to a complaint made by a group called Extinction Rebellion and upon their findings they (police) were happy not to pursue it any further."
When asked to comment on LEG's claims Mr Lee declined to comment further.
Meanwhile LEG said it will continue monitoring local hedgerows: "We will call out hedgerow destruction with planners and developers to encourage responsible compliance with legislation, restricted periods, national and local obligations. "
Lost hedgerow protest plea by Longridge Environment Group