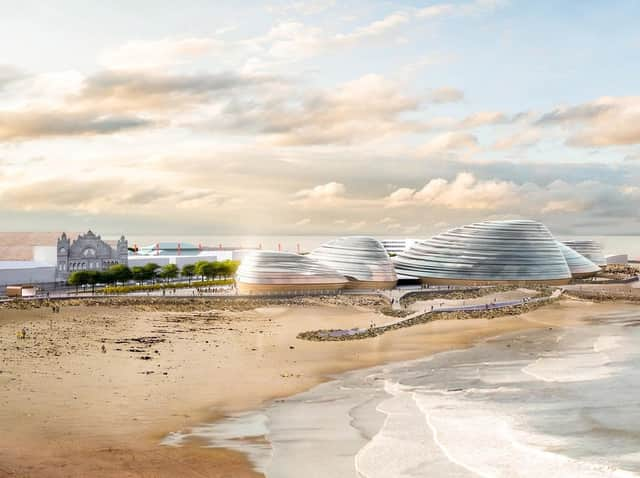 Eden Project North
The letter lays out the economic, environmental and social benefits the project will bring to Morecambe and the surrounding area and points out Eden's track record in delivering more than £2bn of economic impact in the South West since the opening of the first Eden Project in Cornwall.
It describes the project, which will be a major new exemplar attraction that seeks to reimagine the British seaside resort for the 21st century, as "a once in a generation opportunity… that dramatically delivers on the Government's levelling up policy agenda, and the trust and faith that the people of the North of England have placed in change."
Making the case for Government investment, the letter continues: "Government funding is critical to the success of the project and will act as a catalyst to provide further confidence for commercial investment into the scheme.
"As the project is 'shovel ready' (with a fast-track design and build programme), we can be on site mid-way through this year with immediate gains demonstrating hope, optimism and the green shoots of recovery from Covid-19.
"We believe the benefits for employment, opportunity and investment are clear to see. They will ensure a positive and lasting legacy, not just for Morecambe but also for Lancashire and the North."
David Harland, Chief Executive of Eden Project International, said: "We're heartened to have received such passionate support from such a wide variety of Northern leaders and hope that the Government can see that Eden Project North will be enormously beneficial for the region.
"It is clear to everyone involved in this project that the community is completely behind Eden Project North and we know that they are as determined as us to make a success of this vision.
"We urge the Prime Minister and Chancellor to support Eden Project North in the Budget next week."
Eden, which is working on the Morecambe project with partners Lancaster University, Lancaster City Council, Lancashire County Council and the Lancashire Enterprise Partnership, has submitted a business case to the Government.
The 140-page document makes the case for £70m of Government investment in Eden Project North.
Eden Project North is projected to attract around one million visitors a year and directly employ more than 400 people. The business case estimates a visitor spend of more than £200m per year in the region (not including money spent at Eden Project North) which would support an additional 1,500 jobs.
Eden in Cornwall cost £141m to build and to date has welcomed more than 22 million visitors since opening in 2001. In recent years, it has continued to attract around 1m visitors a year.