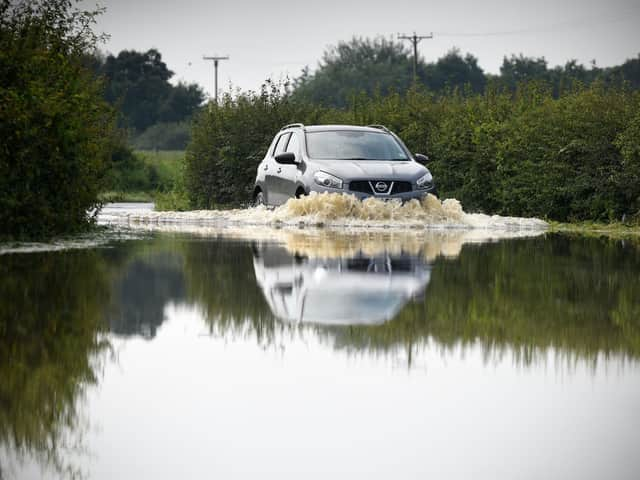 Flash floods wreaked havoc in parts of Fylde in August
Mr Menzies, who met with residents and county officials in Wrea Green last week, said: "Many residents have contacted me after recent incidences of flooding in the village.
"It is simply unacceptable for residents to go through such horrendous flooding.
"I wrote to lead flood authority Lancashire County Council about the issue and have held a virtual meeting with the various flood authorities to discuss several areas."
That meeting identified issues in Wrea Green, Warton, Freckleton, Kirkham and other areas, including blocked gullies, antiquated drains, and issues with outfalls to the Ribble estuary.
Mr Menzies added: "I met with residents and Lancashire County Council officers in Wrea Green to look at problem areas where flooding has taken place.
"I was pleased to hear a full diagnostic check of the drains is being carried out, but I understand there are issues further downstream, where the drainage system meets the Ribble.
"It is clear there are a number of issues which need addressing and Lancashire County Council must work hand-in-hand with the Environment Agency to ensure any works carried out are fully beneficial for residents.
"I also raised the matter in Parliament with the Secretary of State for the Department of Environment, Food and Rural Affairs, and he has agreed to meet me and discuss these issues in the next few weeks."
County Coun Albert Atkinson, Lancashire County Council's cabinet member for technical services, rural affairs and waste management, said: "We are aware of issues with localised flooding in this area, and we recently met with some residents in Wrea Green and Freckleton to find out more about their concerns.
"In recent years we've been seeing more incidents of heavy rainfall.
"This can overwhelm systems which weren't designed for those volumes.
"Detailed investigations are being carried out, before proposals can be put forward."