Lake Windermere: Plunging temperatures cause Britain's longest lake to freeze over
With overnight temperatures plunging below freezing and a windchill factor of minus 10 across Cumbria over the past 48 hours, parts of England's longest lake have begun to freeze over for the first time in more than 10 years.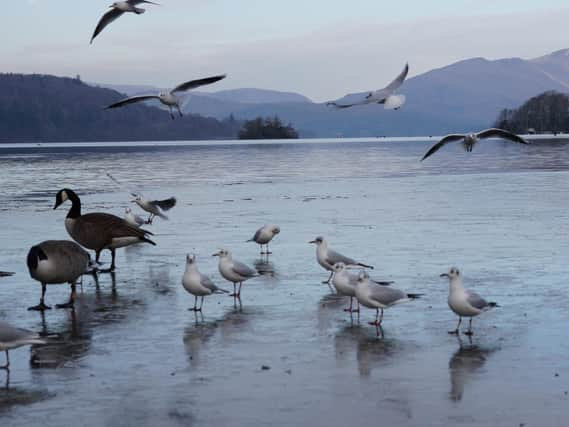 The Lake District is no stranger to stunning panoramas of snow-capped fells, but staff carrying out essential maintenance work at Windermere Lake Cruises say it's the first time since 2009 that they've seen large chunks of the lake turn to ice amid the spectacular wintry landscape.
John Woodburn is Operations Director at Windermere Lake Cruises. He says, "This is one of the very few occasions that we've seen sections of Windermere start to freeze over in recent years. The last time we saw this type of scene was in 2009, when we built an ice plough for the bow of one of our 'Steamers', MV Tern. This enabled us to push the huge chunks of ice away as she sailed past Belle Isle in the centre of the lake.
"On another occasion, back in the early 1980s, it was even possible to walk across part of the frozen lake between Lakeside and Fell Foot. At that time, I recall one of the team trying to break through an eight-inch layer of ice with an ice pick, but it was frozen solid and as you can imagine, it was a thankless task!"
Due to the national lockdown, Windermere Lake Cruises aren't currently sailing, but a small number of the team continue to work daily to carry out essential maintenance.
During the current cold snap, that includes keeping a close eye on the weather conditions to ensure the historic fleet of 17 large passenger vessels – alongside the fleet of electric self-drive motor boats - remain well-protected and warming the engines up during the day to prevent frost damage.
John adds, "It has been very cold for the past couple of nights and we have seen the ice on the lake gradually increase in thickness and spread. However, the strong winds forecast for Saturday and Sunday will help break the ice up and the milder conditions from the beginning of next week should see all of the ice disappear on Monday.
"If the weather had been calm and cold for a longer period of time, we would have taken additional measures, like running the engines in gear to turn the propellers and break up the surrounding ice. As it is, this looks like a very brief chapter in the story of frozen Windermere."