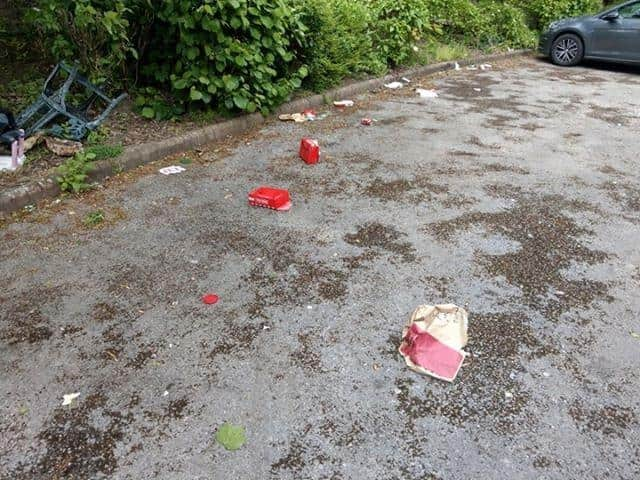 KFC packaging has been discarded on car parks around Preston Docks. Credit: Antoni Squires
Dozens of red and white cartons from the fried chicken chain can be found strewn over pavements, verges and car parks around the docklands.
Car parks near the KFC drive-thru in Port Way have seen bins overflow with boxes and disposable soft drink cups, each branded with the familiar face of Colonel Sanders.
The swift return of fast-food litter, since KFC reopened its drive-thru last Wednesday (May 6), has irked those living in the area.
The KFC at Preston Docks was overrun with customers when it reopened its drive-thru unexpectedly last Wednesday (May 6). Credit: Antoni Squires
Antoni Squires is one of many Ashton residents who had welcomed the reduction in rubbish found scattered around his neighbourhood during lockdown.
He said he hopes people will emerge from lockdown with a new-found appreciation and respect for nature and the environment.
But the sudden surge in littering since KFC reopened has left Antoni 'disgusted' with some of its customers.
The fast-food packaging can be found littering pavements and car parks around the Docks. Credit: Antoni Squires
He said: "The KFC packaging is all over the area. People park in the cinema car park and dump their rubbish there too. Some are just inches from a bin. It's disgusting.
"The Covid lockdown has had such a positive environmental impact, but as we start to see restrictions lifted, and people emerge from their homes, it appears the environmental gains are soon being lost.
"If this is how it is going be coming out of it, then we have learned nothing. We are wasting a golden opportunity to change our ways for the better, forever.
"Sadly, it appears there is a selfish element of society that think a greasy takeaway fix is so much more important than looking after the environment.
"They believe that simply throwing their rubbish on the ground is acceptable. It is not.
"The whole area is already littered with branded rubbish. The grass verges, pathways, all over the cinema car park and all around the docks, it's everywhere."
Antoni said he has reported the litter to Preston City Council and KFC.
Councillor Matthew Brown, leader at Preston City Council, said the increase in littering since the reopening of takeaways is "very disappointing".
He said: "We understand that after several weeks of lockdown, being able to access a drive-through takeaway is very tempting. But it's also very disappointing that some people have little regard for the environment and would leave litter in this way.
"Additional bins at certain locations to deal with increased capacity are in place. However, we are dealing with reduced staff numbers and resources due to the impact of Covid19.
"It is an individual's responsibility not to litter. We will monitor the situation to determine if our resource allocation needs amending, taking into account the recent increased usage."
KFC have been approached for comment.