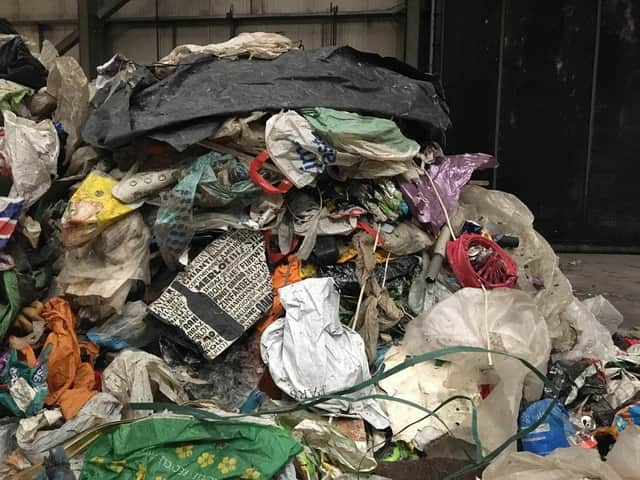 Contaminated waste full of non-recyclable plastic bags and bin liners
The council is introducing measure on Monday November 2 because when recycling reaches the waste processing plant, any contaminated waste – such as items already bagged and tied up in a plastic bag – cannot be recycled.
Residents should use their blue wheelie bin for clean plastic bottles, pots, tubs trays, glass bottles, jars, aerosols, clean tinfoil, and food and drink cans.
All of these items, however, must not be bagged in a bin liner or plastic bag; they must simply be loose, placed directly into the blue bin.
The council's message is therefore simple: "Don't bag it, to bin it!"
All blue wheelie bins in South Ribble have had a new sticker attached to the lid to inform residents of the change.
Coun Sue Jones, Cabinet Member for Environment at South Ribble Borough Council, said: "The issue of what can go into the blue bin was recently examined by Lancashire County Council, who led a massive push to communicate effectively with residents that additional items – such as clean plastic pots, tub and trays – can now also be recycled in your blue bins.
"The next step for South Ribble Borough Council, in order to make sure we are able to recycle the absolute maximum amount your waste efficiently and effectively, is to say to residents: "Please do not put plastic bags in your blue bins".
As part of the project, Lancashire County Council has funded two temporary full-time officers to work at South Ribble Borough Council on this issue of waste contamination.
They will be working with the council's communications team and neighbourhoods team.