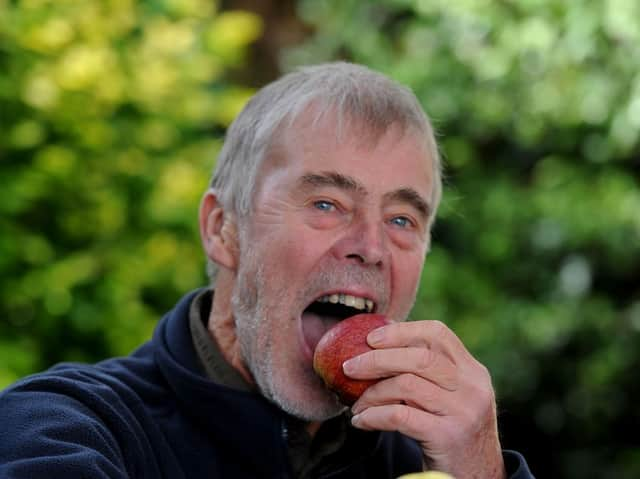 Happy harvest: Phil Rainford pictured tasting an apple
But instead of the usual gathering at a community venue the event will go online.
Martin Charlesworth, secretary of the Friends of Bowland, has unveiled plans for a virtual Apple Day event, which will provide a wide-ranging look at the history of apples and apple production, the loss of UK orchards and the work to save local varieties.
Martin, from Ribchester, who grows some 20 different apples and currently recommends his Charles Ross apple as "absolutely superb", said: "Apple Day is a celebration of the diversity of the British apple."
Muriel Lord will be taking part in the Apple Day event
There will also be video contributions from Phil Rainford of the Northern Fruit Group and local historian and farmer Muriel Lord.
Martin added: "Phil has been trying to find these lost varieties since the 1970s. He grafts them and sends away apples for DNA analysis and sometimes he finds a lost variety."
Muriel has experience of growing hardy varieties of apple which thrive in the wet northwest climate.
Keen amateur growers may grow hundreds of varieties of apples, but there is a much more limited choice of the fruit on sale in shops. Martin points out that by growing your own you can be sure the apple has not been treated with pesticides - even if it is more misshapen or blemished than those selected for retail sale.
Martin Charlesworth savours this year's homegrown apple harvest Photo: Neil Cross
Some varieties keep better than others and Martin was given a dessicator as a gift from his children and uses it to dry apples.
While in the absence of the Apple Day gathering people will not be able to sample different varieties at the celebration, there is, urged Martin, nothing to stop people gifting apples to friends and neighbours or putting a donation box at their gate.
The event will be broadcast via Zoom on Saturday, October 17 from 10am - 11.30am and on the evening of Wednesday October 21 from 6.30pm - 8pm. Full details will be posted on the Friends of Bowland Facebook page and the events page on the Forest of Bowland AONB (Area of Outstanding Natural Beauty) website. Booking will be via Eventbrite.
Martin Charlesworth, secretary of the Friends of Bowland, preparing for the Bowland Apple Day Photo: Neil Cross
Homegrown apples may not look as perfect as apples in the shops but they have a wonderful taste and there is an extensive choice of fruit to grow.