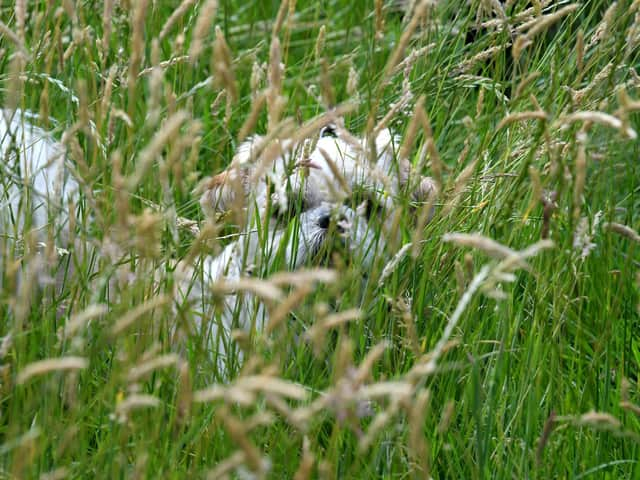 The grass at the Larches estate hasn't been cut since before lockdown
After buying his home, on Thurnham road, four years ago, Philip Kay claims he received a letter that left him "horrified".
In the letter, from Preston Community Gateway, Philip said that it warned him he would risk being evicted from his home if he didn't cut the grass in his garden, which he says months of rain stopped him from maintaining.
"When I first bought my house it rained consistently for six weeks and I was unable to get out to cut it. The grass was only up to my ankle and I received a threatening letter saying they could start the eviction process. I was horrified," he said.
"The estate is surrounded by loads of grassed areas and at the moment, some of it has grown to way above my knee and I am over six foot tall. The area is a complete mess.
"It just looks really tatty and it has annoyed me. Enough is enough. They usually come and mow it and even then, they don't clear it up afterwards."
The pandemic put a stop to services across the country, with the Preston Community Gateway claiming that the result of Covid-19 meant that they were unable to continue with grass cutting.
Lee Garry, Head of Asset Management said: "We are just beginning to reintroduce our grass cutting services, which we were unable to carry out due to Government restrictions. Tenants can find more information about how we are doing this and the new processes that we need to follow on our website.
Local children in the grass, that hasn't been cut since March.
"Being the largest social landlord in Preston, it will naturally take some time for us to revisit all our estates. We are prioritising our most vulnerable tenants first and are also carrying out a more comprehensive grass cutting treatment in each area to ensure our estates are soon back to tip top condition.
"The area around The Larches was one of the last estates cut before the Government measures were imposed and as we have previously indicated to Mr Kay is due to be cut during next week."
But resident Philip Kay says the pandemic is an excuse and claims that the new build homes nearby have been well maintained throughout lockdown.
He also claims that the Preston Community Gateway threaten to evict residents who don't keep their grass to a suitable length.
"We have new build homes facing where I live and when they built them, part of the contract was for them to keep it well trimmed and managed," he said.
"It's a mess where I live, but then ten seconds down the road it looks pristine. On Facebook, there's a group where people have said the area is beginning to look tatty. The sides of the road are all overgrown."
However, in a response from the Preston Community Gateway, they commented that they don't send letters to people with unkempt gardens, but do send them out if people's grass is six feet high and they have broken prams, sofas or other fly tipping in their gardens.
They further expressed that they never send letters if it's just for un-mown grass, claiming that gardens need to have been complained about from neighbours to generate a letter from themselves.