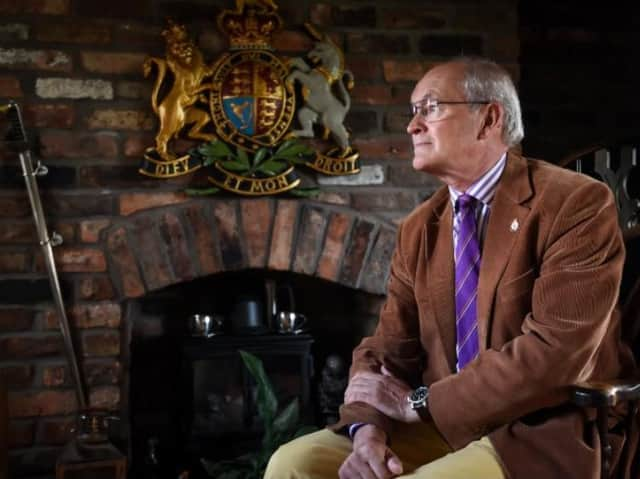 Col David Waters reflects on his role as the new veterans' champion in Preston.
To the energetic new head of ex-service personnel in Preston, the job is as much to do with the future as it is the past.
And while his plans for a parade in the city to mark the 75th anniversary of the end of the Second World War today have been torpedoed due to Covid-19, David refuses to stand at ease when it comes to the welfare of any veteran of any conflict.
"There aren't many left from World War Two - obviously their numbers are dwindling," he said.
After 40 years in uniform, Col Waters understands what ex-service veterans face on Civvy Street.
"But I don't want people to think that veterans are just watching the tide go out. For me there is a lot more to do. I'm keen to turn that tide and give them a future."
David, 66, whose forces career spanned four decades, was appointed as president of the Preston and District Veterans' Council in March, just as the coronavirus lockdown was imposed.
He is eager to get out and salute some of the area's sizeable ex-service population when rules allow. But so far social distancing has left him working in a virtual world.
Starting up an online newsletter called "Naafi Break" has eased some of the frustration. He has also been penning a weekly bulletin as chairman of the Royal Engineers Officers Club in the North West.
A grainy image taken from TV footage shows Col Waters with Princess Diana in Bosnia just days before she was killed in a car crash.
But he yearns for the face-to-face contact with other veterans who, like him, have important stories to share with people who understand.
"When I took over this job I was told it would be all flags and funerals,"he explained. "But there is so much more than that. Yes, there are some quite elderly veterans, especially those from World War Two. But there are still lots of younger ex-servicemen and women who need our help with the physical and mental scars they have.
"I have lots of ideas on what we should be doing for them. For me it's all about keeping body and soul together. There is PTSD - that's a big thing now and a dreadful thing. But I think we need to distinguish between what is PTSD and what I would term withdrawal symptoms, which many people suffer from when they leave the armed forces. Sometimes the two are confused, but they are quite different.
"When you are in the forces you build up such comradeship. You are together in dangerous situations and even when you're training it's a dangerous game. People suffer when they leave the services and they need help, but very often it is not to the degree of PTSD. It's not one size fits all and there needs to be a distinction between the two.
"The padre and the Medical Officer are very important people in the services and we should have the equivalent on Civvy Street where they can go and get help."
David advocates a Naafi in every large town where veterans from all the armed forces can meet and share their memories of service life. He would like to see more breakfast clubs similar to the one in Garstang which was attracting up to 60 ex-service personnel before the Covid crisis closed its doors.
And he wants to see Preston's Fulwood Barracks retained as a joint military headquarters instead of being pensioned off as Army surplus by the Ministry of Defence.
He sees his presidential role as "pulling the threads together" of 17 local veterans associations under the umbrella of the PDVC. All have their own standards which are proudly borne at public events like Remembrance Sunday and special parades such as VE Day and VJ Day.
The standard bearers also attend as many veterans' funerals as they can to honour a fellow soldier, sailor or airman.
The PDVC liaises with the Royal British Legion and local authorities over its ceremonial events, such as the VJ Day 75 commemoration which David helped put together in conjunction with Preston City Council, only for the latest lockdown measures to pull the plug last week.
Undeterred, David and the Mayor of Preston Coun David Borrow, quietly laid wreaths in a private ceremony yesterday.
"There is a lot we do and a lot more we would like to do," he said. "And it is something I'm really looking forward to getting into when things get back to normal.
"Our veterans deserve to be remembered, not forgotten. Thankfully there is so much public support these days for our forces, both past and present. And for that we are extremely grateful."
Born in Preston, Catholic College student David grew up first in a terraced house in Haydock Street and later on the Larches council estate. His father Harry worked for printing press firm Goss, becoming production control manager at the Preston factory. Mum Mary was a window dresser at British Home Stores. The family later moved to Leyland where Mary ran a corner shop in Leyland Lane.
With two grandfathers who were Great War soldiers in the Loyal North Lancashire Regiment and a father who served with the Royal Engineers in WW2, it was little surprise David was drawn to the Army .
"I had hoped to go to university, but my dad got me to join the TA at Kimberley Barracks in Preston where there was a troop of engineers and I got hooked on the military," he reveals. "And it was a passion which remains today.
The Royal Engineers beckoned, like his father before him, and after Sandhurst he had spells in Germany and London on a Territorial commission. As a reservist he worked for British Aerospace as chief of staff for future capability.
During a six-month tour to Bosnia in 1997, David was working on landmine clearance when a very special guest turned up to help publicise the awful injuries being suffered by children in the aftermath of the war in the Balkans.
"Lots of children were losing legs and arms from stepping on IEDs," he explained. "I found it difficult witnessing that and our job was to de-mine the area to make it safe.
"Princess Diana was involved in the landmines campaign and came over to see the work being done and to meet some of the young people who had been injured. I was chosen to brief her and I must say the way she was with the children was amazing.
"I can see her now, in a pink Ralph Lauren shirt and tight black cords. She went straight over and sat down on the dirt floor with them. She was so natural."
It was to be her last Royal trip. Days later the world was in mourning after Diana was killed in a car crash in Paris. Years after her death a TV documentary showed a clip of David on the balcony in Bosnia with the Princess.
His family captured it in a photo. "It was spooky," he recalls. "It brought all those memories back of her with those children."
More than 20 years later David has survived a quadruple heart bypass and attends the Heartbeat charity rehabilitation unit in Preston which he describes as "a life-saver."
His appointment as president of the Veterans' Council in Preston came through an old friend. "I had known Colonel Bernard Stam for many years, we served in Hungary together. He had done the job for 15 years and asked me if I would be interested in taking it on.
"He said it was time for someone else to have a go. I wasn't sure, but the following day I attended the funeral of my sister-in-law's father who was ex-RAF.
"An RAF standard bearer walked in front of the hearse and all the other PDVC standards were there too. I heard his widow talking afterwards and I realised just what it meant to the family. I thought 'it's far too important not to carry it on.' I felt obliged to do it, so I said 'yes.'
"As an officer your first duty is to look after your soldiers. That's your job as the leader of a team. That's the right way to do it and even in retirement that's still what I believe I should be doing."