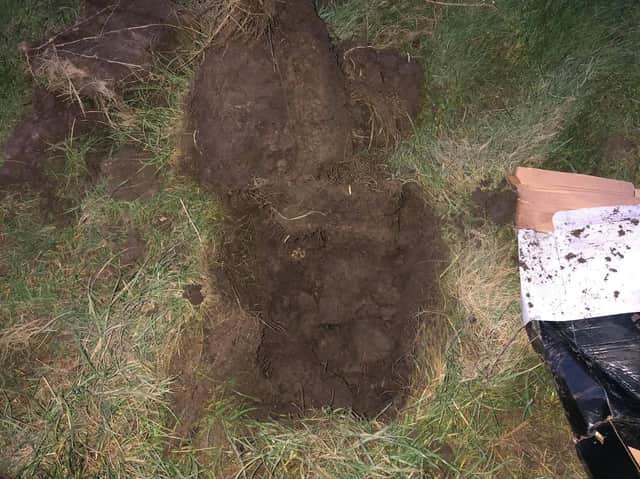 Louise Walsh found the puppies inside a shoe box buried in a shallow grave beside Shore Road, Warton, near Carnforth on Sunday (November 22)
Mum-of-two Louise Walsh made the grim discovery in Shore Road, near the village of Warton, at around 3pm on Sunday evening (November 22).
She had parked up in a lay-by on the rural stretch of road, towards Crag Bank Lane, to walk her dog through the fields with her two young boys.
But a cardboard box sticking out from a freshly dug hole in the ground caught Louise's eye. A thin layer of soil had been swept over the hole and Louise went to investigate.
The dead puppies were found buried in a shallow grave near a lay by in Shore Road, Warton, near Carnforth on Sunday evening (November 22). Pic: Google
She swept the soil aside and found herself peering into a shallow grave where she unearthed an Adidas shoe box containing three or four dead puppies.
"It was horrible and sickened me," said Louise.
"It wasn't nice and you can't un-see it. I feel guilty because if I had gone the day earlier, they might still be alive, as I walk there regularly with my family.
"Whoever it was had dug a hole but then just put the earth back on in a hurry by the looks of it, as the box was sticking out.
Louise said the puppies had appeared to be buried in a hurry, with just a thin layer of earth swept over the shallow grave
"I kind of panicked as I had my two sons and dog with me and I didn't want them to see them, so I told the boys to walk ahead whilst I picked the pups up and put them in my van."
Louise said the puppies appeared to be aged around one to two weeks and were brown and white. She said their breed appeared to be a Staffy-cross, but she couldn't be sure, as she was too upset to open the box for a second look.
"I'm absolutely devastated," added Louise.
"It sickens me. Even if they had just put them on a doorstep, knocked and run away, that would be so much better than what's happened to them."
The puppies, aged between 1 to 2 weeks, were wrapped in tissue inside a shoe box
Louise drove into Warton village where she called on Rachel Wright, who owns local dog walking service Wright Paw Forward.
She said: "Rachel is a lovely lady and she kindly took the puppies in for me whilst we reported it to the RSPCA.
"Her friend advised her to put them in the freezer to preserve them until the inspector could collect them, as they were already in a state of decomposition.
"I'm just hoping someone might have seen something suspicious down the shore in the past few days, so we can help these poor little puppies get some justice."
An RSPCA spokesman said: "We were contacted by a member of the public who made a horrifying discovery of a box of dead puppies in Carnforth on Sunday (November 22).
"The bodies are badly decomposed so it's impossible to tell how old they were or even what breed they were, and unfortunately, it's not possible for us to determine how they died.
"What remains unclear is whether they died during birth or afterwards and whether there are any suspicious circumstances.
"However, we'd be keen to hear from anyone with information about how they came to be buried in the woods.
"Anyone who can help our enquiries should call 0300 123 8018."
It is more important than ever on you taking out a digital subscription to support our journalism.