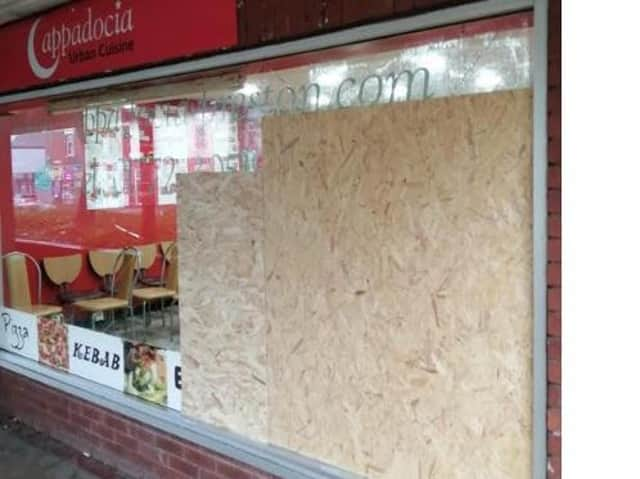 The boarded up window which burglars smashed to get in.
Raiders smashed their way into Capadoccia Urban Cuisine in Water Lane, Ashton at the weekend, but left empty-handed.
"They didn't get anything, because we never keep cash on the premises," said Mohammed as he tidied up after the latest burglary.
"That's five times now in as many years and I'm getting fed up of it.
"They just smashed the window and climbed through. They had a good look around and opened the till, but there was nothing for them to take. So they just made a mess before they left."
Capadoccia, which is known locally for feeding the homeless, closed its doors at 1am on Saturday morning. Mohammed got a call from the nearby Spar shop owner at 8.30am telling him his window had been broken.
"Obviously someone has got in during the night after we shut," he said. "But we're on a main road, I'm surprised no-one saw or heard anything.
"The window is special toughened glass and will cost £1,300 to replace. It's so annoying because only once - the first time - did burglars get anything. I think they took about £50.
"Since then we have never left any money in the shop, so it's pointless breaking in."
Mohammed is urging anyone with information to get in touch with the police on 101.