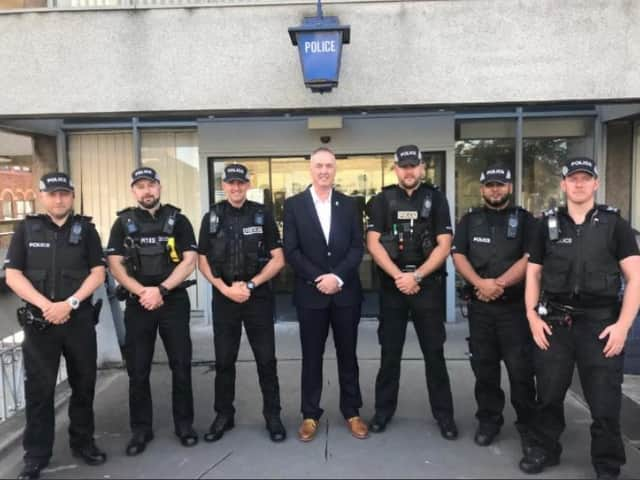 Commissioner Clive Grunshaw with task force officers in Chorley.
The squads, which were set up 12 months ago to respond to public concerns about organised crime in the county, have been praised for the "fantastic" job they have done to clean up the streets.
"They have been an overwhelming success,"said Lancashire's Police and Crime Commissioner Clive Grunshaw, who promised more task force officers would now be recruited in the future to target drug dealing, theft and anti-social behaviour.
And the senior officer in charge of local policing in the county, Ch Supt Sam Mackenzie, added: "I'm really proud of the work they have done over the past year - they are an impressive bunch."
Head of local policing Ch Supt Sam Mackenzie says task forces have done a "fantastic" job.
The task forces, totalling just 40 officers, were brought in to re-connect with the public after almost a decade of cutbacks to the county's police service.
"At the time it seemed that 40 officers for the whole county was just a drop in the ocean," said Commissioner Grunshaw. "But their success in just 12 months demonstrates what can be achieved.
"We now know we can invest even more going forward because we know the difference they are making - the statistics are evidence of that.
"The rationale behind this was to re-engage with communities and deliver what the public have been asking for - and in some cases demanding - which is the disruption of organised crime, taking drugs off the streets and gathering and acting on intelligence they give us.
"It is that proactive policing which has been degraded over years of cuts to the service. It's been a massive success."
Much will depend on funding from central government, but Lancashire has already budgeted to introduce a rural task force across the county. Officers are currently being recruited and could be in post by January.
It is hoped the new rural squad will have the same sort of impact in areas of Lancashire where criminals prey on remote communities to steal expensive farm machinery and plant.
Ch Supt Mackenzie said engagement with the public was vital in both rural and urban areas to tackle crime. And in the first year of the task forces more than 20,000 people have passed on their concerns about local crime in a questionnaire on the Stay In The Know About Lancashire website.
"The information they give us means we can target our activity down the street level," he said. "As people tell us more and more we can take action.
"I'm obviously delighted with the success achieved by the task forces in their first year. But, more than that, I feel a real sense of pride in the work they are doing. They didn't exist 12 months ago and they came in and picked up the mantle and have done a fantastic job."
The statistics for the first year show:
Drugs: Worth more than £16m seized, with Blackburn-with-Darwen and Hyndburn topping the list on £4.7m, Blackpool second on £3.9m, Chorley and South Ribble (£1.5m), Burnley (£1.35m) and Preston (£1.2m).
Arrests: The Preston Task Force detained 220 people, Chorley and South Ribble (192), Pendle and Ribble Valley ((135), Lancaster and Morecambe (126), Blackpool (75) and Fylde and Wyre (34).
Intelligence: More than 1,300 items of intelligence were passed on by the public over the year, with Burnley (268) and Pendle and Ribble Valley (241) providing the most. In Preston 122 tip-offs were received, Chorley and South Ribble (81) and Blackpool (182).
The task forces executed a total of 224 warrants, with Preston carrying out 70 of those and Blackpool 44.
Officers seized £66,000 in cash and around 50 vehicles, as well as £20,000 in plant and machinery.
To contact your local task force go to: www.stayintheknow.co.uk/LancashireTalking
It is thanks to our loyal readers that we can continue to provide the trusted news, analysis and insight that matters to you. For unlimited access to our unrivalled local reporting, you can take out a subscription here and help support the work of our dedicated team of reporters.