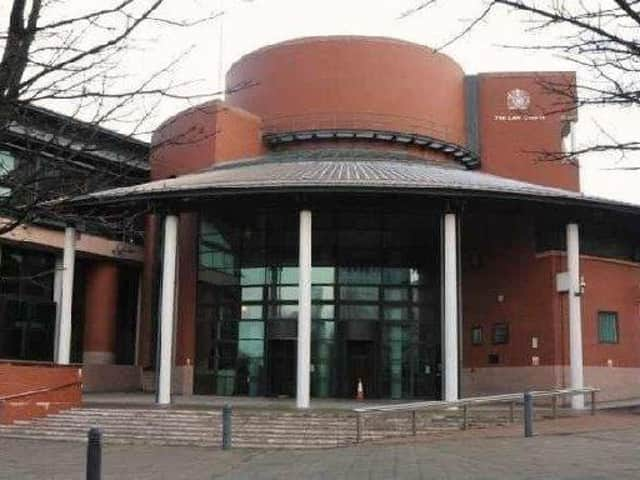 Preston Crown Court outside
Paul Bruzzese, 48, of Kingsbridge Close, Penwortham, distributed one image via his Kik messenger account in June 2018 and even when it was closed down in June 2018, and he suspected police would come for him, he continued to amass sickening material on i-Phones.
He collected a vile stash of 512 images - including five videos - over 20 months until he was finally arrested on February 11.
His 20 month jail term was suspended for two years to allow his ongoing rehabilitation and work with the Lucy Faithfull Foundation, which assists adults with a sexual interest in children, and he must do 150 hours of unpaid work
Judge Philip Parry also imposed a 10 year sexual harm prevention order restricting his use of internet enabled devices and must sign the Sex Offender's Regster for 10 years.
He said: " Judge Philip Parry imposed a sexual harm prevention order. 49 78 385
He said: " Category A images which you downloaded, kept and viewed, constitute the possession of images involving penetrative activity with an animal or sadism and they are at the highest level of depravity involving young children.
"Your offending came to light because in November 2018 you shared an image online over Kik Messenger of a category C indecent image.
"That means you made a conscious effort in my judgement not only to find and to view images to obtain gratification from, but to share that with somebody else.
"I have my concerns about you. In the pre sentence report you denied you possessed any of this imagery for sexual gratification, you deny any sexual attraction to children. I do not accept that for a moment.
"You knew, I'm told, the police would be coming for you at some point these sorts of accounts are rightly closed down the moment authorities discover they are being sued to discuss or share indecent images.
"I don't know why it took nearly 20 months for police to come knocking on your door but they did, and even after your account was closed down you continued to amass and compile your imagery of children."
Beth Pilling, prosecuting, told Preston Crown Court the age of the youngest victim was seven but were mainly teenage girls.
She said: "Officers attended in the early hours of the morning due to images uploaded from an IP address in 2018.
"His wife and children were present. They had separated them and asked for all his devices in the house and he has provided PINS.
"The defendant was interviewed. He accepted there would be images but was surprised at the volume of downloaded images mentioned.
Defending, Katharine Pierpoint said Bruzzese's life had "fallen apart" since, with a divorce, moving back with his parents, and the loss of his job, and told the court he had a history of depression
She added: "He is truly ashamed to find himself before these courts, a man of 48 who has never been in trouble before.
"The fact he has suffered from depression for a number of years is no excuse whatsoever for this type of offending behaviour."
The Lancashire Post is more reliant than ever on you taking out a digital subscription to support our journalism. For unlimited access to Lancashire news and information online, you can subscribe here: https://www.lep.co.uk/subscriptions