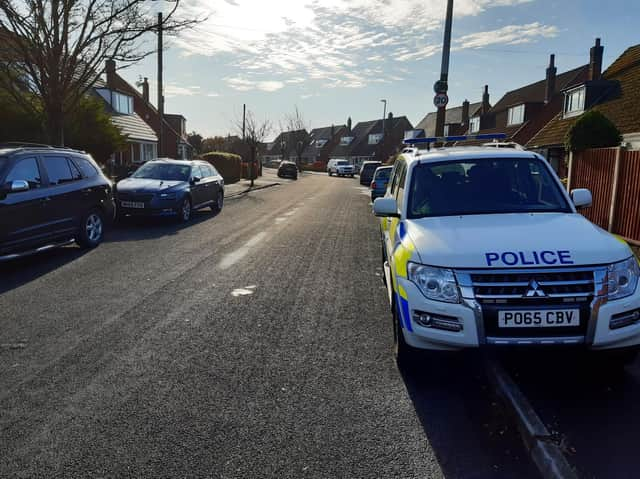 Police in Fulwood on Friday
The 16-year-old was arrested on Thursday under Section 41 of the Terrorism Act 200, which relates to being involved in the commission, preparation or instigation of acts of terrorism.
Police remained at the scene on Friday and were seen taking bags and boxes of items from inside a house on Janice Drive into vans.
Dozens of police officers were continuing to enter the house through the front door and bringing out bags of belongings this afternoon, at 4pm, as neighbours watched from their driveways and windows.
Police in Fulwood on Friday
One male resident, who lives two houses down said: "We had no idea what was going on, everyone was talking about it because there have been so many unmarked cars here since yesterday morning going in and out of the house.
"I actually spoke to the mother briefly two days ago and she seemed absolutely fine. We didn't know much about them apart from that, but it was a shock to see so many police here. They were here all night and we know the family have been moved out since this has happened.
"We have seen the police visiting the house few times in the past but never expected anything like this. We are in complete shock. We just can't believe it."
Another local of Janice Drive said the family was 'quiet and reserved', adding: "I know of them but they are very quiet. The mother is always very pleasant to speak to but we aren't friends or overly close. She takes her children to school in the mornings and brings them home every afternoon just like a regular family.
"That's all I know. I believe there are at least three children living there. They are such a solitary family and we never really see much of them.
"It's unbelievable. So many police have been coming and going since yesterday, it has just been constant on 24 hour surveillance.
"They are friendly and generally keep themselves to themselves so the whole street is just in shock."
A Greater Manchester Police spokesman said: "On, November 5, officers from Counter Terrorism Policing North West executed a search warrant at an address in Preston and have arrested a 16-year-old boy on suspicion of terrorism offences.
"He remains in police custody for questioning and enquiries are ongoing. At this time there is not believed to be any immediate threat to the wider community."
- Thank you for reading this article. If you value what we do and are able to support us, a digital subscription is only £1 for your first month at https://www.lep.co.uk/subscriptions