Lancashire Police South Division crowned winners at Constabulary Problem Solving Awards
Lancashire Police's South Division, which covers the areas of Preston, Chorley, South Ribble and West Lancashire, have celebrated success at the 5th annual POP (Problem Oriented Policing) Awards which celebrates the best examples of problem-solving in Lancashire.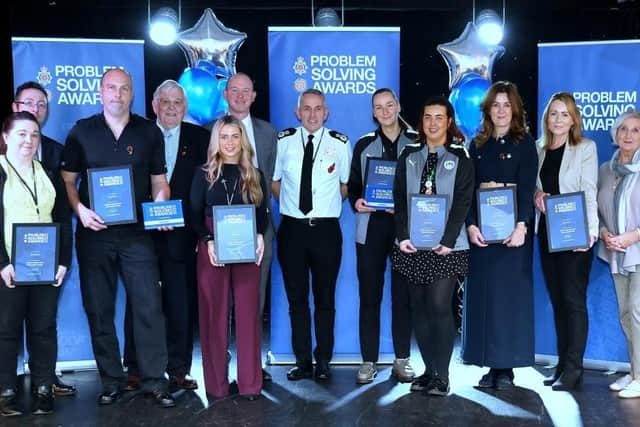 Officers from West Lancashire's Neighbourhood Policing team were crowned the overall winners for their entry in the Parentship Working Category for their innovative, multi-partnership approach to tackling and preventing anti-social behaviour and criminality in the Skelmersdale area.
Operation Morano was launched to tackle incidents of anti-social behaviour, disorder and criminal damage in and around the Concourse Shopping Centre. Working alongside 22 partner agencies which included schools, local businesses, Lancashire Fire and Rescue Service, Probation Service, Lancashire Violence Reduction Network and West Lancashire Borough Council, to name a few, the West Lancashire Neighbourhood Policing team created a multi-partnership aimed at sharing information to jointly identify offenders and safeguard victims.
Support and diversionary packages were also put in place with agencies like Wigan Athletic Champions Programme, to steer offenders away from anti-social behaviour and prevent further offending.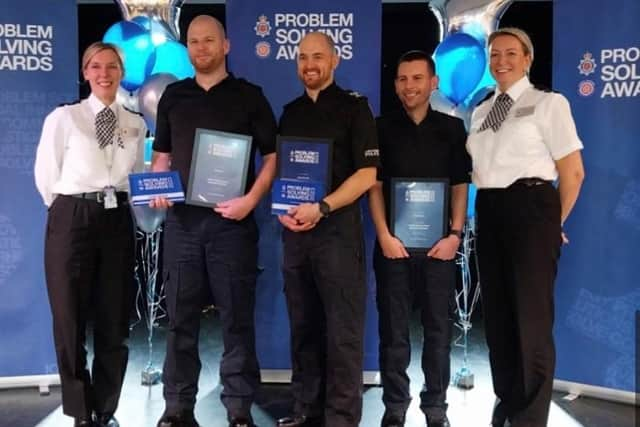 As a result of the collaborative partnership, ASB in the area reduced by 60% compared with the previous year.
This year, over 40 applications were made from police officers and staff across Lancashire, the highest number of submissions ever to be received for the awards.
These were then whittled down to seven category winners for Neighbourhood Policing, Partnership Working, Fighting Crime, Business Support, Volunteers and Innovation, Student Officers and a new category this year, Operation Centurion, which has a focus on anti-social behaviour.
During the event, which was held on Thursday, November 2 at Ribby Hall Village, officers and staff from across Lancashire, who had won their category, delivered presentations to over 180 peers, stakeholders and a panel of judges including Chief Constable Chris Rowley, Lancashire Police and Crime Commissioner, Andrew Snowden, Sylvia Chenery, Chairman for the Lancashire Partnership Against Crime (LANPAC), David Smith and the Chief Executive of Blackpool Council, Neil Jack.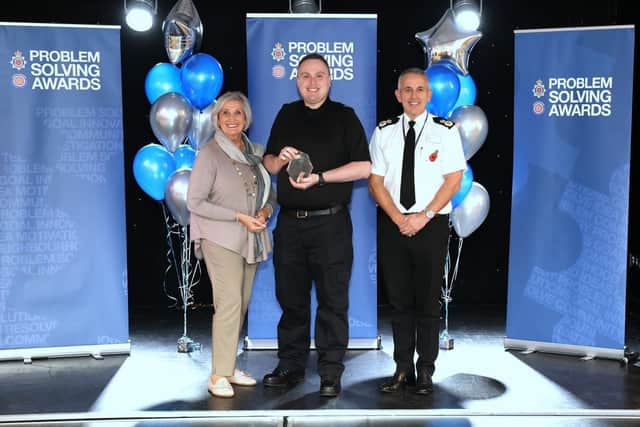 Furthermore, officers from Preston's Neighbourhood Policing Team were given the title of Runner-Up for their entry under the Operation Centurion category.
This was for Op Vitality, a problem-solving approach to tackling youth and adult street anti-social behaviour, including aggressive begging, in Preston City Centre.
Working collaboratively with partner agencies, Op Vitality aimed to disrupt those involved in ASB and low-level criminality through diversion and enforcement through increased visibility and the introduction of a dedicated team of officers for Preston City Centre, diversionary activities and enhanced communication with businesses and local residents.
As a result of this work, there has been an 18% decrease in anti-social behaviour in the City Centre area between January and August this year compared with the same period last year.
This year saw the introduction of a brand-new award to the proceedings. The Chenery Award is dedicated to Sylvia Chenery, a Criminologist and Problem Solving expert who has supported and continues to support Lancashire Constabulary.
This award recognises an officer or member of staff who has made an outstanding contribution to problem-solving and was awarded to South Ribble PCSO, James Slater who is known for his commitment, expertise and passion for problem-solving.
"Incredibly proud of our officers and staff"
Chief Superintendent Stasia Osiowy, divisional commander for South Division, said: "I am incredibly proud of our officers and staff across the division who have demonstrated innovative approaches to problem solving in order to keep the communities of South Lancashire safe and it is fantastic to see my division represented so well at the awards.
"We have seen some fantastic examples of problem-solving involving our partners and these awards show how we work effectively with those agencies to share creative ways of working and fighting crime."
"Proactive policing is exactly what I want to to see", says police commissioner
Andrew Snowden, Police and Crime Commissioner for Lancashire said: "The Problem-Solving Awards rightly celebrate some of the many ways that officers and staff across Lancashire Constabulary are proactively taking the fight to criminals and finding new ways to work alongside partners to the priorities in my Fighting Crime Plan.
"It's a chance for officers, staff and partner agencies to come together, share best practice and innovative ways of working and fighting crime.
"We've seen some fantastic projects, delivering practical solutions to all kinds of different issues, all aimed at making our streets safer.
"Huge congratulations to the overall winner, Op Morano, and to every one of the different category winners that offer an insight into the hard work and dedication across the organisation, happening around the clock to deliver an efficient and effective policing service.
"Proactive and innovative policing is exactly what I want to continue to see in Lancashire and my Safer Lancashire Neighbourhoods Fund is continuing to support projects, put forward by police officers and staff, as well as community organisations, that address community concerns and protect the public.
The overall winner of the Problem Orientated Policing Award 2023 will now represent Lancashire Constabulary at the National Problem Solving Awards, the Tilley Awards, in 2024.