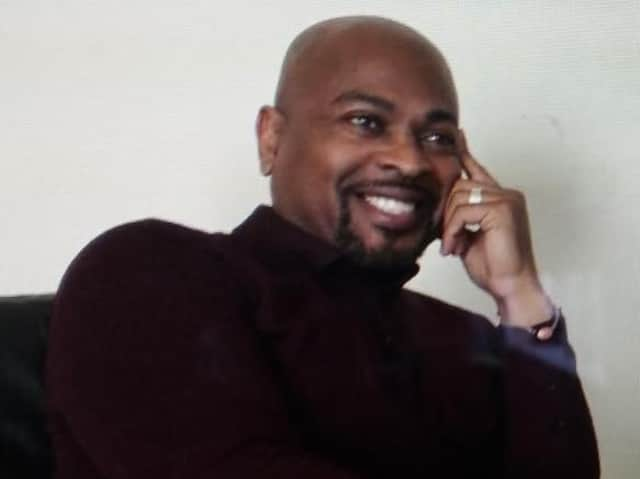 Adrian Murrell is the founder of Preston's annual Windrush Festival.
On Thursday an online conference titled: 'Is Preston a Racist City?' will examine if things have changed over the past 14 years.
The conference, broadcast live by the Light Foundation on their Facebook page (7pm), will have a panel of speakers including city council leader Coun Matthew Brown, Isa Cole who is director of Windrush Initiatives, Nadeem Ashfaq from the Light Foundation and Sgt Lana Palmer-Davies of Lancashire Police.
In advance Brian Ellis asked three key Prestonians for their views. And the message which came back loud and clear was: It really is time for a discussion here on racism.
Glenda Andrew is co-founder of the Preston Windrush Generation and Descendants group.
ADRIAN MURRELL is the man behind Preston's annual Windrush Festival. He says racism is still a problem in the city. And the Black Lives Matter campaign highlights the injustice still felt by minority communities, including those of African/Caribbean descent in Preston.
"The death of George Floyd in Minneapolis was so sad I couldn't watch," he said. "I couldn't sit there and watch a man - not a black man, but a man - die in front of my eyes. The world was witness to this awful incident and the world became one, it wasn't about colour anymore, it was about a human being.
"The African/Caribbean community in Preston are outraged and reflecting on their own experiences living in Preston and the treatment by the police growing up and still, today, having the same problems as their grandparents.
"We had a meeting with the police last year about hate crimes in Preston and people are still affected by it and still nothing is being done.
Zoe Bennett's dad was a well-known figure in Preston. His murder during a trip to Jamaica left her devastated.
"So I have to say it leaves me a little perplexed to see how the council can show support for our African-American brothers in America, but when it comes to the African/Caribbean community in their own city, it feels like the urgency isn't there.
"Look at the Windrush Festival in Preston. We started it eight years ago, with very little support from anyone and again the council seems reluctant to help.
"It is now a national day that is celebrated by the whole of England, but little Preston were the ones who started it and kept it going despite the barriers.
"Unfortunately it takes a horrendous incident like the George Floyd murder to highlight the struggle of black people all over the world. So I'm planning a few residentials after the lockdown for members of the community to have an honest and open discussion about what we can do to make things better in our own town."
GLENDA ANDREW is one of the founders of the Preston Windrush Generation and Descendants group working to get justice for local victims of Windrush. She is on the panel of speakers on Thursday.
She says the upsurge of disgust at what happened to George Floyd in the United States led to an impromptu gathering in front of the Harris Museum in Preston.
"It was just a reaction to the events in Minneapolis, but the turnout was amazing and it just showed the strength of feeling in support of the Black Lives Matter movement.
"Just listening to the speakers it was clear that racism is still here in our city. And one of the common things that came out from the young people was the number who said they have had to delete people from social media because of comments made during the previous few days.
"It was also clear that the establishment has got to step up, because racism is institutionalised and unconscious in many sectors of life here. It is changing, but change happens all the time and it's what we do with it that matters.
"We began our group to help people in the light of the Windrush Scandal. What has happened since, with the help we have been able to get for victims, has been overwhelming. But it has had to be community-led.
"We haven't been looking to the Government and other institutions, it's about the people. The people have come together and looked after their own.
"I've suffered racism in my life, oh yes. And when I've had it I've called it out. But it is still happening today - in the criminal justice system, in health, employment and in education. And it is still not being addressed.
"What I feel is that white people need to voice their concerns about this, don't just let it be the black people speaking out."
ZOE BENNETT's father was brutally murdered on a trip from Preston to his homeland of Jamaica. She fought back from the depths of despair to build a successful career as a motivational speaker.
"Speaking on this subject is something I feel passionately about because it has been a constant way of life where black people are stereotyped for standing up for themselves against racism.
"They are referred to as having a chip on their shoulders, an attitude problem and many other typical ignorant unacceptable response labels.
"What people fail to realise is the response is as a reaction to frustration at being treated systematically unfairly in comparison to our white counterparts. We have to work hard to be positively recognised and acknowledged like someone else not of colour.
"I've had many incidents of racial inequality stemming back from primary school and as a result of this I recognise that our education system blended with parental positive education is necessary to stem the flow of ignorant learning that plays itself out into society as a whole.
"We are not born racist. I believe in creating a system of learning of "how would you feel" programmes to allow people to envisage walking a mile in another's shoes.
"There needs to be an unveiling of silence and the end of turning a blind eye culture from within."
To watch Thursday's "Is Preston a Racist City?" go to the Light Foundation's Facebook page: www.Facebook.com/L.Foundation