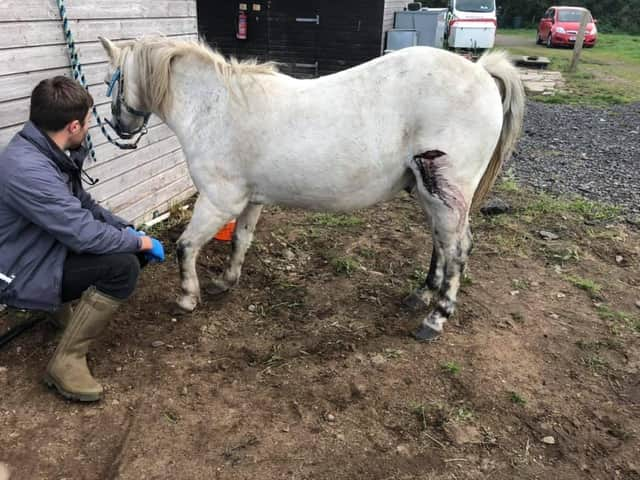 Solis suffered a wound to his upper leg
Owner Anji Sanderson went to the yard in Hambleton on Friday night and found her daughter Caitlin's horse Solis with a knife wound.
It comes less than two weeks since two of her dogs were attacked and beaten at the same premises.
Police are investigating both incidents.
Rocky recovering with Anji
Anji said : "I'm devastated to say someone broke back into the stable yard on Friday night and stabbed one of my daughter's horses.
"Again nothing was taken - just a vicious attack on another animal and we are completely distraught by this."
A vet tended to the horse's wounds.
Anji said her daughter was in tears and inconsolable after the attack on her favourite horse.
CCTV has now been installed at the stables.
Anji, from St Annes, said: "This is clearly a personal attack on us, but it can't carry on as this is psychopath behaviour going round stabbing innocent animals."
Earlier this month Anji found one of her Rottweilers - Rocky - had been stabbed repeatedly by an intruder..
Her other dog Tia had been attacked and beaten.
Both needed urgent treatment.
A horrified Anji appealed for anyone with information about the attacks to come forward.
Rocky, a Rottweiler, had to have urgent surgery on his wounds, including a gash on his throat.
His jaw was smashed so bad they had to remove part of it and multiple teeth.
Tia, also a Rottweiler, was also badly beaten, possibly with a weapon.
A Lancashire police spokesman confirmed the latest incident was also being investigated.
The spokesman added: "We have been made aware of reports a horse has suffered a slash injury to one of its legs.
"The incident happened in a field off Shard Road, Poulton-Le-Fylde, between 6pm on September 25th and 10.30am on September 26th.
"No arrests have been made and enquiries are ongoing.
"Anyone with information can call police on 101, quoting log 0602 of September 26th."