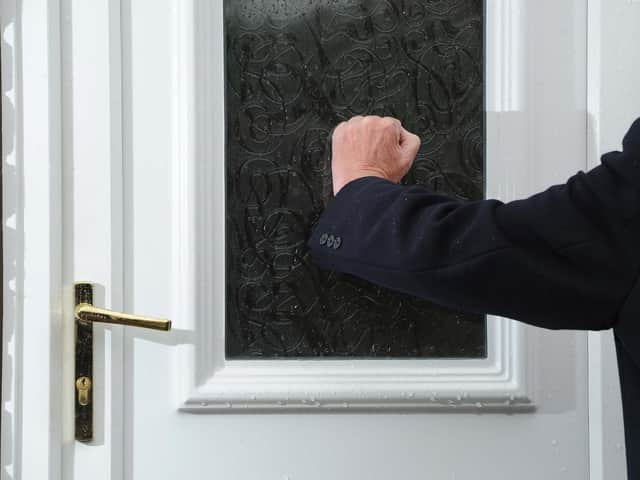 A number of scams have been reported in Lancashire
Lancashire's trading standards experts are warning people to beware of Covid-19 conmen, phone fraudsters and dodgy drive repair firms following the latest scam reports.
One Preston resident received a cold call from a man claiming he was disinfecting the outside of houses because of the Covid pandemic on behalf of the council.
After sending the scammer away several times, the householder eventually allowed him in and he stole a purse.
People should always be suspicious of anyone calling and claiming to be from the council and should ask for ID and check with the council if not expecting a visit.
Meanwhile, a woman in Bamber Bridge was cold called and agreed to work resurfacing her driveway for £3,700 cash.
The rogue trader only painted the driveway black and when he was contacted by trading standards officials claimed he had only charged £400 for the work.
Trading standards advice is to avoid cold callers, always use local known traders and get paperwork including full contact details.
County Coun Albert Atkinson, cabinet member for technical services, rural affairs and waste management, said: "It's amazing what lengths these doorstep traders will go to.
"They come out with clever cover stories to get their hands on people's money and as the case of the Covid disinfectant fraudster scam shows, they are relentless in their efforts, sometimes coming back time and time again until they get what they want.
"Always say no to cold callers, use local known traders and use recommendation services like our Lancashire Safe Trader Scheme. Remember if you agree to the contract in your own home, you will, in most cases, have 14 days to cancel."
There have also been a number of phone scam reports after residents in Morecambe and Preston were contacted by phone by someone claiming to represent Age UK Lancashire wanting to visit to see if any help could be provided.
A council spokesman said: "These calls have not come from Age UK Lancashire, who are concerned that the caller may dishonestly access your house and gain your trust. People should remember to always check identification, all Age UK Lancashire staff will carry this with them.
"Anyone who has received a call regarding support from Age UK Lancashire that they have not requested, should call the customer services team at Age UK Lancashire on 0300 3031234."
There have also been reports of bogus HMRC scams. One call to a resident in Lancaster stated it was from Revenue and Customs and that before legal enforcement action was taken, which had been filed against the recipient's name, they needed to phone 02071830380 immediately.
A similar very pushy automated call received by a Burnley resident on their mobile phone alleging to be from the HMRC stated that if the recipient did not press '1' they would be arrested shortly.
People should always hang up if they receive calls from this or any similar number, proceeding with such calls can lead to your bank details being requested for payment to prevent the alleged arrest or enforcement action.
Advice from HMRC on how to deal with any suspicious contact that you receive can be found at www.gov.uk/topic/dealing-with-hmrc/phishing-scams
County Coun Atkinson added: "Be wary of anyone calling purporting to be from HMRC, any government department or even organisations like Age UK. Bogus callers can pose as representatives from genuine organisations.
"If you are suspicious, trading standards advice is never to provide any personal information and to hang up straight away. Check on official websites for the genuine contact details for these organisations. You can use the contacts on these to check whether the callers are genuine."
To report any scams or rogue traders, contact Lancashire Trading Standards via the Citizens Advice Consumer Helpline on 0808 223 1133.