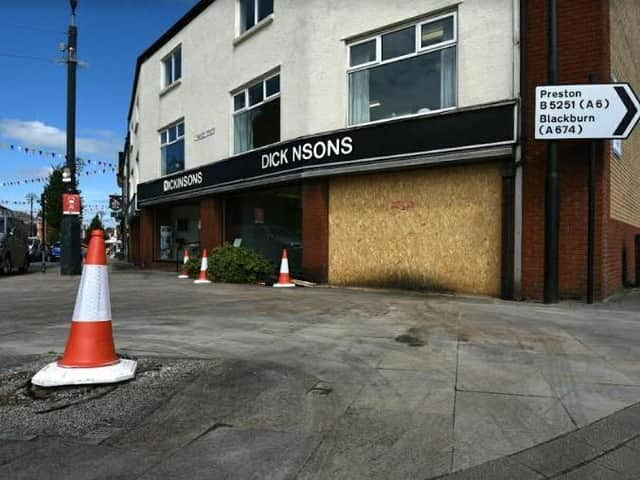 The smashed showroom window has been boarded up
Dickinsons Furniture and Baby shop on Market Street suffered the brunt of the smash.
The car, an Alfa Romeo, collided with a lamp post, lights and a tree before crashing through the shop window and into the nursery section full of prams.
The well-established, family business, was left counting the cost of the damage - but said business was largely unaffected.
Trevor Witts, of Dickinsons, said: "There was a lot of damage really.
"We don't know much about it because it was done during the night.
"It was early Saturday morning, the policeman said at 3am."
He added: "A car has come up Pall Mall, taken out the traffic lights, taken out some street furniture and ended up going through out shop window, about the length of the car."
The nursery section of the window display was badly damaged.
"It hit the front window where the prams are," said Mr Witts.
"When we got there, they were just taking it (the car) away."
The accident comes at a difficult time for businesses struggling with the economic strains on them as a result of the coronavirus.
"It's an interesting sideline," said Mr Witts. "It's something above and beyond.
"It's just a shame. It was a nice display.
"There was no damage to life and limb because it was inn the middle of the night."
Mr Witts added: "The department for the nursery is temporary closed and outstanding orders aren't affected because they're in our warehouse.
"The rest of the business is not affected."
A Lancashire Police spokesperson said: "We were called to Market Street, Chorley, at 2.55am on August 22nd to reports a car had gone into the front of a shop.
"When officers arrived they found an abandoned Alfa Romeo.
"The crash had caused extensive damage to a lamppost, traffic lights, tree and the shop front.
"A 26-year-old man, from Chorley, was later arrested on suspicion of dangerous driving and driving with excess alcohol.
"He has since been released under investigation."