Blackpool scaffolder ordered to have booze-free Christmas and New Year
A scaffolder has been ordered by a judge to have a booze-free Christmas and New Year as a condition of staying out of prison.
Watch more of our videos on Shots! 
and live on Freeview channel 276
Visit Shots! now
Jack Simpson escaped an immediate jail sentence for inflicting grievous bodily harm on a man in the street when he appeared at Preston Crown Court.
Instead the 26-year-old was given a six months prison term suspended for two years, on condition he does not consume a drop of alcohol for the next three months.
Judge Richard Archer instructed he should be fitted with a monitor which will register if he has a drink during that time. If so he was warned he could be called back to court and sent down.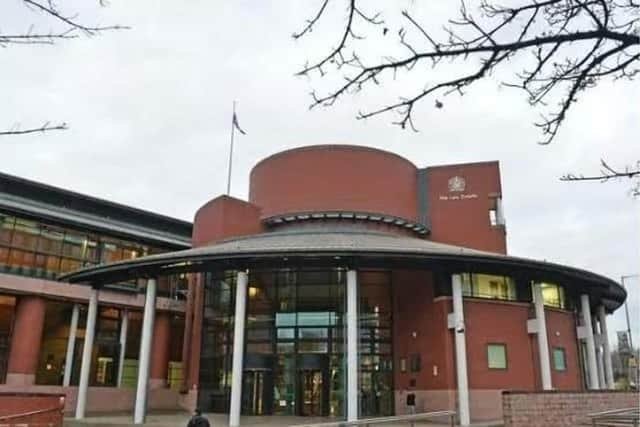 The electronic ankle tags, which can detect traces of alcohol through sweat, were first brought in by the UK courts in 2021. Alcohol Abstinence and Monitoring Requirements (AAMRs) are used in cases where drink has been a recurring feature. The tags work 24 hours a day and test offenders every 30 minutes to ensure compliance.
After hearing about Simpson's violent past, Judge Archer told him: "You could have little argument if I sent you to prison."
The judge said that Simpson had "a pattern of impulsive and violent behaviour." And added: "If someone says or does something you don't like you use your fists."
The court heard that Simpson, of Jameson Street, Blackpool, assaulted a man called Phillip Shaylor in August 2021. Mr Shaylor had been walking home after a night out at the King Edward pub in Central Drive, Blackpool when he heard shouting and screaming and saw a man apparently holding a woman by the throat.
He called the police and remained on his mobile telling them what was happening. Suddenly he was punched on the right side of the face from behind, causing him to hit his head on a concrete column and fall to the floor. His mobile phone was damaged in the fall.
Barrister Paul Brookwell, prosecuting, said Mr Shaylor felt he momentarily blacked out before recovering and struggling to his feet. He continued down the road and bumped into two police officers who he reported the assault to.
He attended hospital where he was found to have a fractured right eye socket, another fracture of his face, a small bleed to the right of his eye and a number of superficial grazes to his elbow and body.
In a victim statement later he said the assault had made him worried about going out, especially after dark. He had numbness for a time to his right hand, vision problems which lasted three weeks, headaches and general pain which only subsided after two weeks.
"I struggled turning up to my (work) nightshifts, I didn't want to walk to work on nights," he said. And he eventually had to change his job so he could work days.
Mr Brookwell said Simpson had 11 previous convictions including battery, possession of a blade, threatening behaviour and assault causing actual bodily harm.
Harriet Tighe, representing Simpson, urged the judge not to impose an immediate custodial sentence. She said her client had admitted the offences from the outset. He had "anger issues" and would "welcome support from the probation service."
She added he was the primary carer for his mother who suffered from dementia and was worried about the effect it would have on her if he was sent to jail.
"I have to accept that he does pose a high risk, but he can be managed in the community," said Miss Tighe.
Judge Archer told Simpson: "Mr Shaylor was minding his own business when he recognised someone needed the assistance of the emergency services. You punched him causing him to hit his head on a column. You had no reason to do what you did.
"He (Mr Shaylor) had every excuse to walk past, but he didn't because he chose to do what was right. You chose to do what was very wrong.
"Mr Shaylor was seeking to get involved and provide assistance to report an incident. You took steps to prevent him from reporting (the offence) by smashing bones in his face.
"It is difficult, because how does one deal with you? Your offending is made more serious by your previous convictions and pattern of offending and behaviour."
The judge said the sentence, had there been a trial, would have been eight months in prison, but Simpson was entitled to a 25 per cent discount for pleading guilty, making the sentence six months.
"The difficulty in sentencing in your case is whether I should even contemplate suspending that period in prison. You could have little argument if I sent you to prison.
"This is a finely balanced sentence and I fell in favour of immediate custody. But I have reflected. Six months (of which Simpson would only serve three months behind bars) is likely to do little to bring down the risk to the public."
He suspended the sentence for two years, but told Simpson he should not regard it as "the easy option or easy way out."
He ordered his to do 30 days rehabilitation activities, 180 hours of unpaid work and take part in alcohol monitoring for 90 days.
"It requires you to wear an electronic tag to detect if you drink alcohol - and over the festive and New Year period."