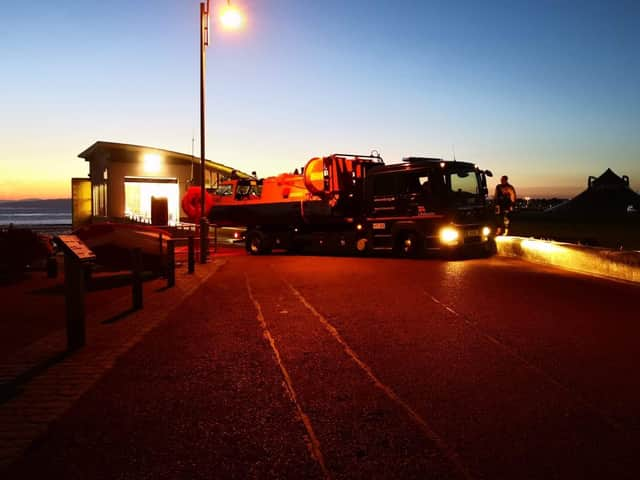 Morecambe RNLI have their busiest week in 2020.
The volunteers were called out five times within a seven day period.
On Sunday May 25, at just after 8pm a call came in saying three people were trapped in the mud near Throbshaw Point.
Morecambe's RNLI hovercraft was launched but it turned out it was three fishermen who did not require assistance and were in the process of making their own way back to shore.
On Tuesday May 26, at 2.30pm Morecambe RNLI were called out after a report of multiple people cut off by the tide at Silverdale.
Lifeboat operations manager Steve Wilson authorised both the inshore lifeboat and the hovercraft to launch in a race against the tide.
Once on scene the hovercraft and inshore lifeboat crews started their searches.
A short time later it was confirmed that the people had rescued themselves and were safely back at shore.
On Wednesday May 27, Morecambe Lifeboat volunteers were called out to a long distance swimmer thought to be in difficulties.
Both the inshore rescue hovercraft and inshore rescue lifeboat were launched.
Fortunately, the swimmer made their way to shore and the volunteers services were not needed on this occasion.
On Saturday May 30, at 6.40pm, Morecambe RNLI were called out after reports of people in the sea at Half Moon Bay attempting to retrieve an inflatable dinghy.
Morecambe's inshore lifeboat was launched and immediately began to make their way to the area.
At 7.05pm a further report was received that all people were now out of the water and safely on shore with the coastguard and the police.
Finally, in the early hours of Sunday May 31, at 1.54am, Morecambe's hovercraft was launched following reports of a man entering the sea.
Following on from the launch the RNLI volunteers located the man on the water's edge and brought him safely back to the promenade.
A spokesperson for Morecambe RNLI said: "This marks one of the busiest weeks for the station in 2020, certainly the busiest since the coronavirus pandemic.
"As always we are on call 24/7 and willing to deploy when our pagers go off.
"Our volunteer crew members continue to show resilience during the current policies in place.
"There was a great turn out from our crew members today.
"Please remember to #BeBeachSafe if you are visiting the coast."