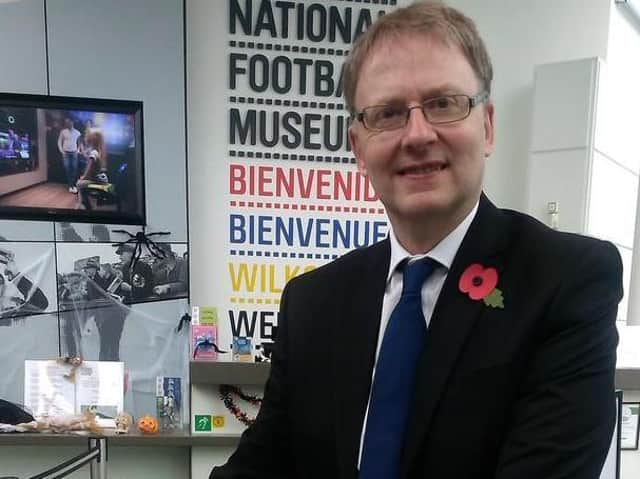 Dr Kevin Moore... UClan historian
As the new season gets underway a leading academic from the University of Central Lancashire has called for a new perspective after exploring the importance of football during the Covid-19 pandemic .
Dr Kevin Moore is a visiting Fellow at the International Football Institute (IFI), which is a partnership between UCLan and the National Football Museum and says the disruption caused by COVID-19 was a chance for fans to take a step back from the "beautiful game" to think about the real importance of life.
Writing in the leading football journal, Soccer and Society, and entitled "Football is not 'a matter of life and death', is far less important than that" the UCLan historian says: "The great Liverpool Football Club manager Bill Shankly never actually said 'Some people believe football is a matter of life and death. It is much more important than that'.
Is football an obsession? A fan praying in the Liverpool Cathedral St.James
Yet this has become arguably the most well known of all football aphorisms. And fuelled by the partly apocryphal Shankly quote, football is currently given a significance it just does not deserve."
His paper compares the recent situation to the Second World War where football in England was stopped for seven years, much longer than the 100-days of football absence during the pandemic and also touches on events which have significantly disrupted the game in this country in the past.
To put events in England in a wider perspective, he also reflects on the impact of Covid-19, other pandemics and other events, which have disrupted football around the world.
Kevin said: "To many fans now, there seems to be an obsessional, unhealthy importance about the game and I say this as a football fan myself.
" The current Covid-19 pandemic is an opportunity for us to gain a renewed perspective on football. It is just a game and we can easily live without it – if we have to."
The paper discusses the debates surrounding the return of the Premier League, after Foreign Secretary Dominic Raab suggested its restart would 'lift the spirits of the nation'.
It also touches on the controversies surrounding footballer's wages and clubs furloughing their staff during a national crisis.
Kevin added: "Fans will want to go back to see live matches, but only if they feel safe – so many may not return until there is a vaccine. In the meantime, it is likely that all professional league games will end up being pay-per-view; vital for the survival of some clubs.
This factor may change some fans to paying but staying at home, particularly long-distance fans."
The paper: Football is not 'a matter of life and death'. It is far less important than that. Football and the COVID-19 pandemic in England can be accessed here, with free copies for the first 50 non-academics accessing:
https://www.tandfonline.com/eprint/2PVAWNINJGNXFQ7RXT5S/full?target=10.1080/14660970.2020.1797496