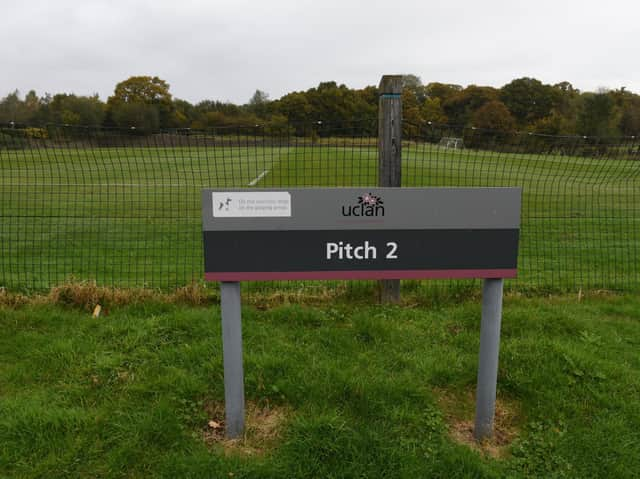 The grass pitches at UCLan's sports arena are overused to the tune of 10.5 times a week say experts
A shock move by university bosses in Preston to ban the amateurs from seven grass pitches has left local leagues in turmoil and many teams struggling to find somewhere to play.
More than 25 clubs with over 40 teams of junior and adult players say they have been left high and dry after the University of Central Lancashire turfed them off it's sport arena in Cottam without notice.
With many pitches, including school facilities, closed as a result of the Covid-19 restrictions squads fear for the future of grass roots soccer in greater Preston.
Pitches at UCLan's sports arena have been closed since March
The university sports arena has been closed since national lockdown in March but the clubs said they were hoping that junior and some amateur adult soccer would now be getting underway.
Clubs say they have been left scrambling for spots at other pitches across the area with some teams only able to play away matches.
But, the university said the decision was made in advance for next year, as they have no plan to open anytime soon for this season.
Clubs say that with nowhere else to turn, they are worried for their future and fear the loss of seven pitches every weekend, and for mid-week training, could force many to fold.
On average 20 teams use the pitches on any one day. PNE Women's alone have 10 teams based at the arena.
A joint statement by Central Lancs Junior Football League,Lancashire Sunday League, Mid Lancashire League,PNE Womens Junior FC and West Lancs Football League said they were "devastated" by the move, which came out of the blue after decades of loyalty.
The united voice adds: "The City of Preston and its sporting community who have supported the expansion of the university and its associated facilities for more than 20-years have now been cast aside."
The statement said :"At a time when grassroots football and its volunteers are under immense pressure due to the current Covid-19 situation, any further setbacks such as this, will have a detrimental effect on the mental health and well-being of these hard-working individuals.
"The announcement has the potential to damage the grass roots game and alter the face of junior, youth, girl's, and open age football across the city for years to come.
"In total there are over 25 clubs and more than 1,000 participants that the new strategy will impact. The teams concerned have made financial commitments to their sponsors and players for the forthcoming season.
"Losing their pitches would leave them with nowhere to play, sponsors demanding refunds and long-established clubs having to fold."
The university said the decision was made in order to provide better facilities for students.
A spokesman said: "The need to prioritise the long-term use of the pitches for students as part of teaching, learning and research means we have made the very difficult decision to no longer accommodate community football on our grass football pitches.
"An independent playing pitch assessment revealed that the pitches have been overplayed by an average of 10.5 games a week and this is by far the highest figure of overuse across the whole of Central Lancashire.
"This has meant that 10 per cent of fixtures have to be cancelled due to the unfit pitch conditions, which affects our ability to provide suitable facilities for our own students."
"The UCLan Sports Arena has been closed to community use since March with no bookings being taken during this time, and it will remain closed for the foreseeable future.
The spokesman added: "With this in mind we decided to review the situation and act now so local teams can find alternative facilities for the future and we can prioritise the use of these pitches for our students."
However, some games usually held at UCLan have been taking place in recent weeks with the squads having to hire pitches wherever they can find spare capacity.
This has meant some having to travel as far as Blackpool for their matches.
The clubs are jointly calling for university bosses to reverse the decision and to allow the clubs to continue to use the facilities at the sports arena.
The seven grass pitches represent 12 per cent of current community use.
The UCLan spokesman said : "Even without the grass we will still be able to provide over 10,000 hours of community use per year at the UCLan Sports Arena."
Community use of all-weather surfaces and 3G football pitch, athletics/cycle track and courts is not affected and are expected to re-open when Government guidelines allow.
In recent years the university has expanded its sport-related academic provision including a new BSc football studies degree.