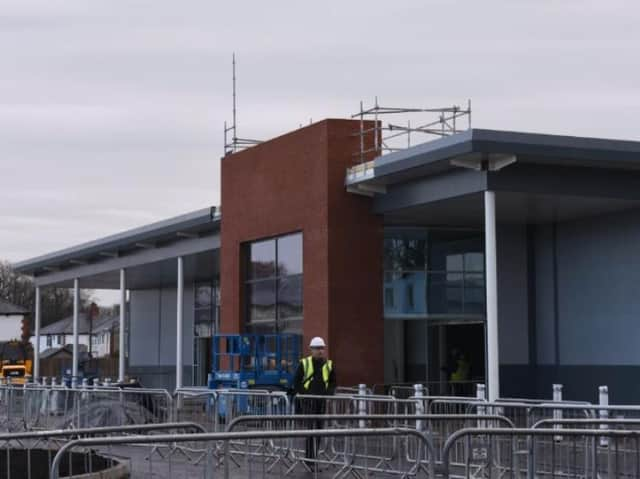 Taking shape: The new Tesco store in Penwortham could be open by the end of January.
Despite getting planning permission and licensing approval for round-the-clock trading, the retail giant has decided not to open during the night.
The decision has come as a relief for residents living nearby who feared a 24-hour store selling alcohol could become a "Mecca" for drinkers.
Tesco chiefs met councillors at the site in Cop Lane last week and gave them a provisional opening date of Friday January 29.
Tesco chiefs brief councillors at the latest site meeting.
Opening hours will be 7am to 11pm (Sunday 10am-4pm) although the Post understands the on-site petrol station will remain open through the night as a card-only facility.
Coun David Howarth, who represents Penwortham on town, district and county councils, said: "I was at the site meeting last Wednesday and Tesco were adamant they will not be opening beyond 11pm.
"As I understand it their application was just to future-proof the store so that, if in years to come there is a demand for it, they already have permission for 24-hour opening."
Former JP Mary Heaton MBE, who lives across the road and objected to a 24-hour licence, said: "I'm relieved it will close at 11pm. If it was open all night it would become a Mecca for people wanting to buy alcohol."
A Tesco spokesperson said: "Our new Penwortham store will be open 7am to 11pm Monday to Saturday and then 10am to 4pm on Sundays.
"We are aiming to open early next year and looking forward to sharing the official opening date with the local community as soon as it is confirmed."