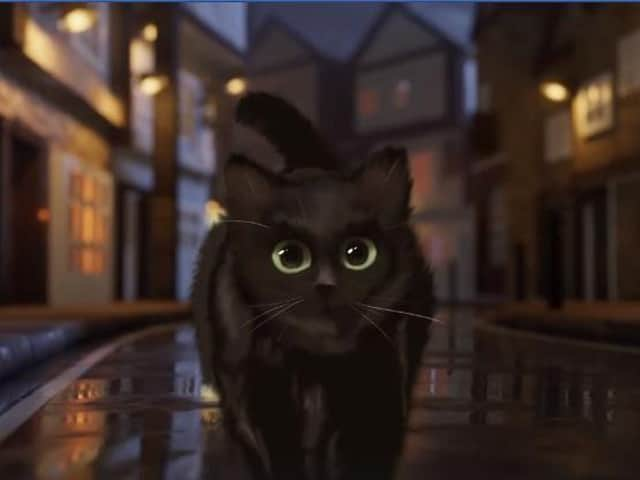 Gulliver the Street Cat (still from the film)
Route Nine Studios, founded and run by business partners Teri Moran and Michael Jon Dawson, created the film in tribute to the health service and so as to provide a child-friendly way of discussing the impacts of the virus' outbreak.
"We wanted to use some of the free time we suddenly found ourselves with to learn a new skill and started trying to learn how to create 3D animation," said Teri. "We've used 2D animation in the past, but wanted to experiment with blending the two to create a little short.
"We decided to make something child-friendly as one thing we have noticed being mentioned time and time again is the bravery and adaptability that the children in the UK have shown during the pandemic," Teri added. "They've had their entire world and social understanding flipped on its head and they've seemingly taken it in their stride and understand the importance of what is happening."
Teri wrote an original poem for the script and, as an actor with voice work experience, Michael did the voice for the protagonist, Gulliver the Street Cat. "We wanted to create a little character and video that could be used to help ease the anxieties and concerns that children may be having," said Teri. "We also wanted a way to express our own mixed emotions at the moment and show how much good we are seeing and how much creativity is blossoming even amongst the fear and the pain that people are feeling.
"We wanted to shine a light on some of the more positive thoughts that have helped us through some of the darker days and emphasise the idea that this isn't forever, that brighter days are ahead and that, if we all just stick together, we'll come out of this stronger," Teri added. "We especially wanted to shine a light on the NHS, and how thankful we all are for them and how incredible the NHS and key workers are."
Calling the reaction to the short 'incredible', Teri said that Route Nine have had numerous comments from people expressing how touched they are by the film and how popular it is amongst children.
"We just want to spread this little message of thanks and hope far and wide," Teri said. "I hope it brings a little bit of peace and understanding to adults and children alike [and offers] a little bit of light in these trying times."