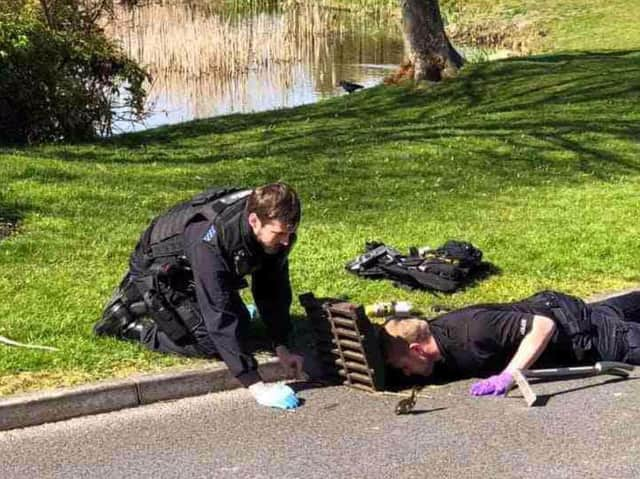 The long arm of the law - Officers rescue a flock of ducklings from a storm drain in Cypress Point, Lytham yesterday (Tuesday, April 7). Pic: Lancashire Police
Officers on patrol in Lytham came to the rescue after reports of suspicious quacking at Cypress Point, Lytham yesterday (Wednesday, April 7).
On arrival, officers found a duck and her noisy ducklings trapped in a storm drain next to a pond.
It was soon established that there was no fowl play involved, and officers concluded that the incident was simply due to the misadventures of duckling-hood.
All seven ducklings, under the watchful eyes of a disapproving mother duck, were soon released, one-by-one, from the drain.
With a quick quack of thanks to the 'Old Bill', the youngsters were last seen waddling their way back to a nearby pond.
A very relieved and grateful mother duck and her ducklings after their rescue at Cypress Point, Lytham yesterday (Tuesday, April 7). Pic: Lancashire Police