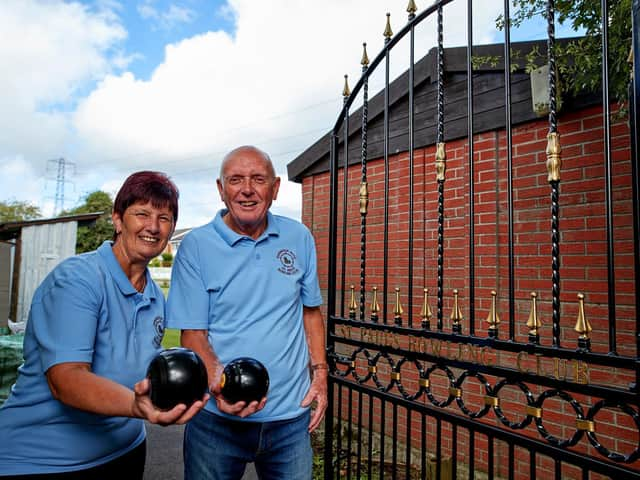 Margaret and Jack Worden with the new gate at St Paul's Bowling Club which has been purchased and installed with money from the Redrow Community fund.
St Paul's Bowling Club, on Croston Road, has received £500 to purchase a new gate and replace fencing at the club's entrance.
The money has come from Redrow's £5,000 community fund that is supporting 12 community groups across the Leyland area.
Club treasurer, Edith Snape, says the new gate and fencing will not only secure the club but enhance its appearance too.
She said: "St Paul's Bowling Club is a vital part of the local community, providing an opportunity for both physical exercise and social interaction for its many visitors.
"Several members are elderly so keeping active and enjoying the company of others is an excellent way of promoting better health and mental well-being."
After lockdown, the bowling club had to cancel all competitive bowling for the current season.
However the club is still operating, albeit with limited numbers allowed on the green.
The club currently has 66 members and five teams active in local leagues, three of which were promoted to a higher division at the end of the 2019 season.
Members range from those in their forties to early nineties. The club is also exploring offering a junior membership after a number of existing members enquired about memberships for
Edith added: "For various reasons many other bowling clubs in the area have closed in recent years, making St Paul's an even more crucial part of the community and this cements the
need for it to continue to thrive and serve all those who wish to enjoy the sport."
Sian Pitt, sales director at Redrow Homes (Lancashire), said: "St Paul's is a club that has served many members of the local community for generations so we're really pleased we can
help them to enhance the club further and make it safer for everyone.
"I think we have all realised just how important outdoor activities are since lockdown and this is a club that will help many of its community continue to safely socialise."
For more details about becoming a member at St Paul's Bowling Club, call George Little on 01772461490 or 07910685109.
For those considering taking up the sport, bowls are available to borrow and members are always happy to offer tuition.