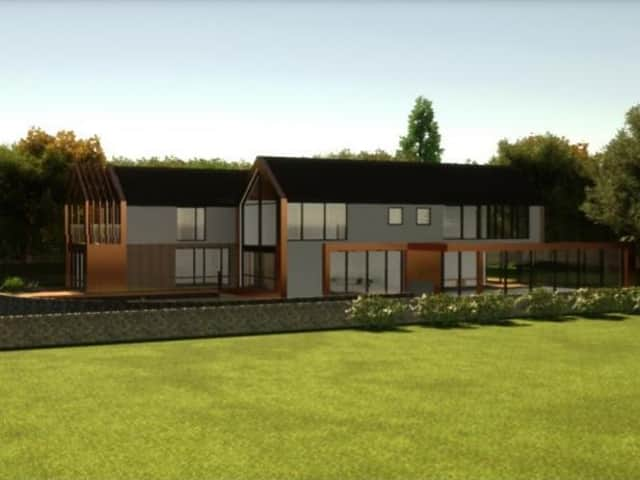 How the new eco-house would look (Image: John Bridge Studio Ltd).
The scheme for a grand six-bedroom home for four generations of the same family at close to the River Ribble at Samlesbury will be recommended for refusal when it goes before South Ribble's planning committee tomorrow.
The house, which will have three connected living sections and underground parking for eight cars, has been earmarked for an acre of garden belonging to The Oaks on Potters Lane, just off the A59.
Councillors will hear that family members already live at The Oaks and "the intention is for the new proposed dwelling (at the opposite end of the garden) to house four generations of the same family ranging from 21 to 86 and for the occupants of The Oaks to assist in the care of the elderly relatives who will be residing at the proposed dwelling."
Objections have been received from local residents saying the land is green belt and the house would be "inappropriate" because of its size and appearance.
Planning officers who have examined the scheme agree the building would have an adverse impact on the rural character of the location. It would also encroach on the green belt.
"Inappropriate development is, by definition, harmful to the green belt and should not be approved except in very special circumstances," says a report to the committee.
"The proposal would introduce residential development into an open, green area which would be contrary to (a national policy) which seeks to safeguard the countryside in the green belt from encroachment."
The planning application says the house has been "designed to give minimum visual impact on the site." Construction will be eco-friendly and the property will have solar power and ground and air source heat pumps.
The applicants argue the building should be allowed because it is an "infill plot" between other homes in the same area. But council officers disagree.
"The scale of the proposal is grand," says a planning statement. "But clever use of the underground car parking and garages reduces the overall footprint."
In addition the multi-generational home will mean three other houses will be released "due to the family deciding to move in together for the sake of cutting down on social care and extensive travel." Between them four of the family members run nine businesses from home.
Thanks for reading. If you value what we do and are able to support us, a digital subscription is just £1 per month for the first two months. Try us today by clicking here