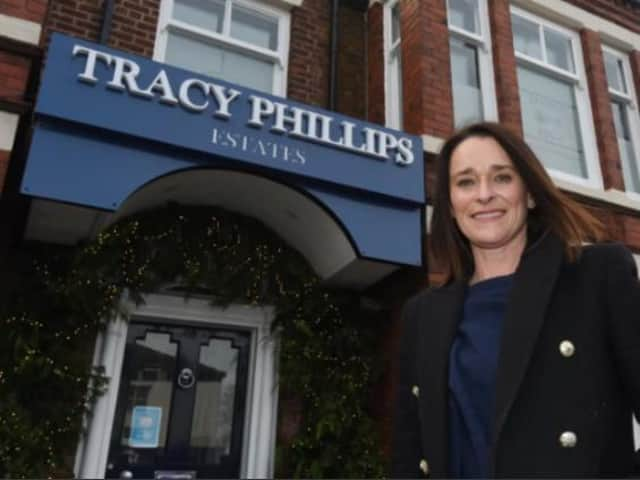 Tracy Phillips says estate agents have been 'very, very busy.'
And today, property experts and home-buyers have shown support for a Post campaign to extend the stamp duty holiday beyond March 31 as solicitors, surveyors and mortgage lenders all battle to get the paperwork done on hundreds of sales across Lancashire.
With many admitting they are swamped with work due to Covid restrictions - the average time to complete is now said to be up to four months in the Preston area - there are real fears some buyers caught up in the frenzy will miss the deadline, costing them thousands of pounds in tax they hadn't budgeted for.
"It is very much on people's minds," said John Wilson of Entwistle Green in Preston. "A lot of people are using March 31 as the deadline and are keen to get things completed before then.
Some deals could collapse if they miss the March 31 deadline, warn agents.
"Solicitors are saying it is taking longer, mainly due to Covid. Some offices are closed or they are working from home. So there is a bit of a backlog. And it is going to be a mad panic over the next few weeks to get things completed."
Chancellor Rishi Sunak is facing a petition signed by more than 100,000 people begging him "don't stamp it out" completely on March 31 - or at the very least extend it for several weeks for those properties which are already under offer.
Some estate agents are predicting that sticking rigidly to the deadline could mean thousands of sales collapsing as buyers pull out and chains collapse.
Standish-based Tracy Phillips, whose patch includes Chorley, says anyone making an offer on a house from now on will be "unlikely" to benefit from the stamp duty break.
The housing market is booming thanks, in part, to the stamp duty holiday.
And some already part-way through the conveyancing process could be facing a hefty tax bill if they fail to get over the line by March 31 - cash they may not have factored in.
"In our experience the average sale is now taking between 12 and 16 weeks," said Tracy. "Solicitors are busy and under real pressure at the moment because sales are taking longer to go through.
"Anything they take on now is unlikely to be able to benefit from the stamp duty holiday. Anything which was maybe pre-Christmas is still possible.
"It depends on all sorts of things like the length of the chain. If you have an empty property and a first-time buyer then that is likely to be quicker.
Chancellor Rishi Sunak is under increasing pressure to extend the deadline.
"But if there are half a dozen properties in the chain then the logistics are going to be much more difficult."
Despite Covid the property market has been enjoying a boom time in recent months and experts say the stamp duty holiday, introduced by Chancellor Rishi Sunak in July to help boost the economy, is not the only reason.
"It's been very, very busy," said Tracy. "But I don't think it's purely down to stamp duty. I think it's many factors.
"The property market stopped during the first national lockdown and people spent a lot more time at home, so maybe that had something to do with it. Also interest rates are low and people haven't been spending on holidays.
"I think people have looked at the stamp duty holiday as a bonus, but it hasn't been the be-all-and-end-all.
"It has certainly encouraged people to move. I have clients who have said they were going to move next year, but decided to take advantage of it and move earlier.
"But it isn't going to continue like this. We are on the crest of a wave at the moment and, as an estate agent, long may it continue."
Antony Waring, Lancashire estate agent with Yopa, said: "The stamp duty holiday has really boosted the local market and given people a reason to move home despite an uncertain economy.
"With the amount of buyers who have been able to save on stamp duty, we have seen budgets increase, demand rocket and property prices inflate around Lancashire - not just in cities, but in suburbs and villages too.
"However, it will only be worth it if the purchase can complete before the deadline, so many conveyancers are now under pressure to ensure this happens."
And Dale Anderson, MD of Fabrik Invest, a property investment company which is currently marketing the Bishopgate Gardens project in Preston city centre, said the stamp duty holiday had "created unnecessary anxiety" for both buyers and sellers.
"The stamp duty holiday has certainly helped boost the market," he said. "Preston is still excellent value for money, so we don't see the stamp duty rates affecting the demand much, as buy-to-let investors have turned to Preston for better rental yields.
"The stamp duty holiday has, however, created unnecessary anxiety for some buyers, and also sellers, who are under pressure to exchange and complete by this date.
"There have been calls for Rishi Sunak to relax the stamp duty holiday deadline to avoid a stressful house moving and completion chaos frenzy in the run up to the March 31. I am hopeful there will be an extension and some flexibility granted whereby investors can exchange and still qualify for the stamp duty saving at completion of the property transactions."
Matthew Gould, sales director for Anwyl Homes Lancashire, added: "The impending deadline has created a sense of urgency amongst buyers and, while it would be great for the industry if the scheme was extended, it seems unlikely.
"Although, given the importance of the housing and construction sector to the wider economy, we are hopeful that Government might consider other supportive measures."