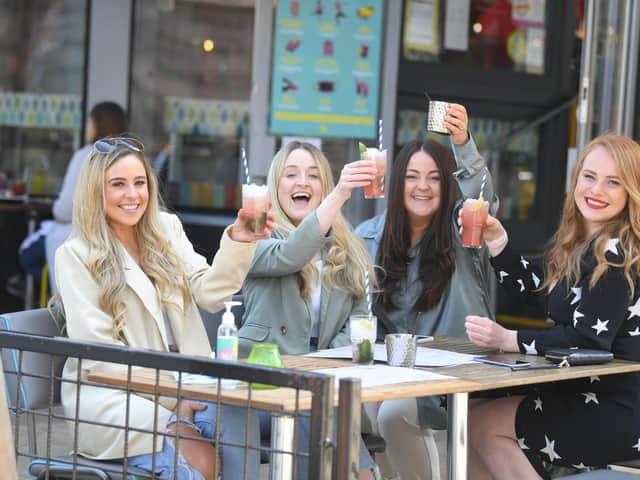 Cheers to a lovely day
The sun's out and it's fun out as Preston celebrated Super Saturday in the city's beer gardens and cafes today.
Thousands flocked into town for their first taste of retail and social therapy since months of Covid restrictions were eased on Monday.
There was hardly a table to be had as bars and restaurants reported high demand for their outdoor seating as a sense of normality returned after the dark winter months of lockdown.
"The smiles on people's faces say it all," said Gary Quinn owner of the Orchard Craft Beer Bar at the corner of Preston Market.
"It's been a mad bust week since Monday. But it's been a long time coming.
"We have been closed for six months here and for over 12 months at our other bar the Guild Ale House. It is a huge relief to be able to serve customers and meet them all again - they are all friends and we've missed them."
At the shops the longest queue, as on Monday, was outside Primark. Other stores were also doing a roaring trade as customers enjoyed the first weekend of spending since the city centre was all-but closed down in early January.
It was a case of cocktails for elevenses for a group of four friends at Turtle Bay. Lucy Fellows, Sally Eccles, Megan Hayes and Joanne Rogerson admitted they hadn't expected to be raising a glass to freedom so soon.
"We tried to book a table for later, but 11 o'clock was the only time available," said Joanne. "So we thought 'OK, we can do this.'
"We've booked in somewhere else later and then we will just see where things take us. The cocktails taste delicious - it's the first time out for us since just before Christmas."
It was the same for a group of colleagues from a company in Chorley who normally meet up once every quarter, but have not been able to get together for more than a year.
"We tried to arrange it in September, but they then shut Preston down the day before we were due to meet up," said Erik Styles at the Orchard bar.
"We got here at 10.30 and were queuing up until 12 when it opened. But it's been worth it."