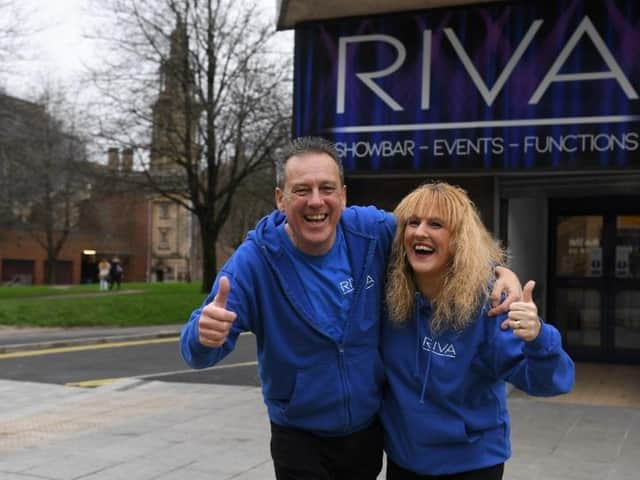 David and Tracey Billington outside Riva Showbar
Sarah Williams of Fairydust Events and husband and wife team David and Tracey Billington - in charge of entertainment at Riva Showbar - have joined forces to organise Preston Rocks 2020 at the Tithebarn Street venue in November.
The live music event will be free for those people battling at the forefront of the current crisis, once their work is done.
"We want to say a huge thank you to the people risking their lives and their families for us", said Sarah, 45, from Deepdale.
Sarah Williams with her keyworker husband Ian
"The frontline services get a lot of grief a lot of the time and there's no reason why. They're there to protect us.
"Also from my own point of view, I have family members who are key workers.
"My daughter is a care assistant in a private nursing home, and she's still going to work every day despite being five and a half months pregnant.
"Her partner is a shop worker and he's had symptoms and they've had to self-isolate, and my husband is a key worker, involved in the manufacture of cardboard, which is important for all the food packaging and so on.
"I sat there and thought about this and all the news, which is just full of doom and gloom at the moment, and I thought, 'wouldn't it be nice if we had something positive to look forward to?'
Sarah knows David from her work organising events, and together, they have organised a DJ and a host of bands and live performers to play on November 14 including Jessica Schofield, ZZ Top UK, Raspbery Glam, Karl Ribble, Josh Hindle - Michael Buble Tribute, Gino Eccles, Micks Disco Fever, Ric 'Bezz' Berry and DJ Glen Miller.
The event will be free for NHS and ambulance staff, fire service, police staff, private care workers and prison staff. Additional tickets for non-frontline workers will be available at £10 each.
"I've done a few family fun days and organised events for a long time, but none like this", said Sarah.
"Dave at Riva has been brilliant. He's put the running order together, so I've not done it completely on my own.
"He has offered the venue free of charge, but there are unavoidable costs, which we're looking for sponsors to help with.
"I also feel I want to do more now. People keep asking me about tickets for key workers. I'd love to offer them free tickets too, but we can't stretch that far without more sponsorship.
David, who worked for the NHS as an auxiliary nurse at the former Whittingham Hospital, said: "It's been an idea I've had in my head for a while now, then I saw Sarah post about it on Facebook and got in touch.
"This is something we want to do as a thank you, these people are risking their lives. There has been a lot of interest from people wanting to help, so there is definitely a real appetite locally to do this and to show our gratitude."
He added: "We've got a full line-up sorted for two rooms, and there will be something for everyone, whatever age, whatever music they're into.
"I think on the night it will be a great atmosphere, but there will be emotion too."
To ensure the night goes to plan, Sarah is looking for more than one sponsor to help cover fixed costs such as security, heating, lighting and insurance and the cost of posters, which are expected to run to between £800 and £1,000.
She said: "We appreciate that asking for any sort of finance at this time will be especially draining, so as far as the amount we are totally happy to work with the donor on this. It would be a fantastic way of saying thank you."
In the first 48 hours of launching the event, 185 people responded, with almost all of the 128 tickets taken given free to front line workers.
Sarah added: "We've had a lot of interest already, it's going to be an amazing night. By then everyone will want to let their hair down and enjoy themselves."
There will also be a charity raffle on the night for Fairydust Event's two chosen charities of the year - The Space Centre in Preston and the local branch of the Samaritans.
She said: "The Space Centre can't run any fundraisers so they're missing out massively, and the Samaritans are being absolutely hammered at the moment, mental health is really being affected by this lockdown. I was told it costs £5 to answer one call, so they really need out help."
For information on how to secure tickets or to pledge sponsorship, click here