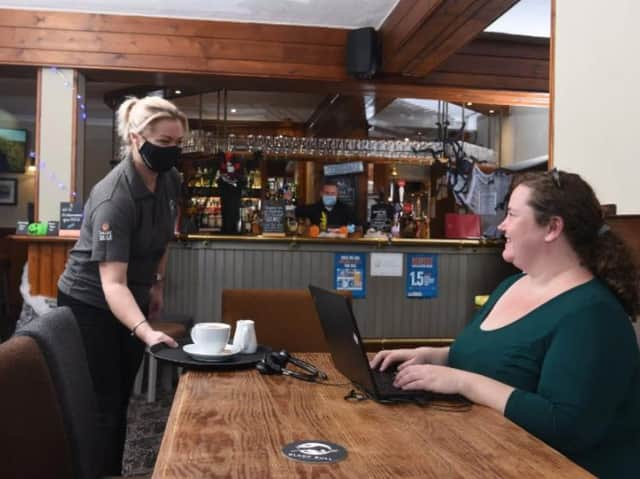 Janine serves coffee to Helena Scott who booked in to work from the pub.
That's the message at one village inn where locals are being invited to break the monotony by setting up office by a roaring fire in the bar.
Janine Vanden, landlady of the Black Bull in Longton, has come up with a novel way to use her pub during the day before she opens to drinkers at 3pm.
But with the Government about to announce more restrictions on the hospitality trade in the coming days, the idea could end before it has really got started.
Janine has even decorated for Halloween, unsure if her pub will be open at the end of the month.
Janine, who has also decorated the pub for Halloween unaware if she will be open to celebrate it in three weeks time, is philosophical about the whole thing.
"You've got to do something, you can't just give up," she said. "We launched the working from the pub idea on Thursday even though we now hear the Government might be closing us down.
"And we're cracking on with planning for Halloween, even though it might all be in vain. We've booked a singer and started taking reservations for tables. I hope it's not a waste of time, but who knows?"
A handful of people took advantage of the pub/office idea on its first day and vowed to return.
For a tenner they get the use of a socially-distanced table, wi-fi and a power point, unlimited supplies of coffee and tea and are also treated to soup and a sandwich for lunch.
"It's gone well so far," said Janine. "All those who came on the first day have re-booked.
"We are just trying to use our space and time to get some revenue in during these difficult times for the hospitality industry.
"People have been stuck at home for months now, staring at the same four walls. Some don't have anyone else to speak to all day.
"For others home can be a very distracting place, maybe with toddlers running around.
"One of those on the first day was doing some university work she couldn't do because it was noisy at home. Another guy has little kids at home and needed some peace and quiet.
"Here we are offering a nice warm and comfortable place to work from. The fire is lit and it's cosy and above all safe."