Jane Clare of One Foot in the Grapes speaks to winemaker Elena Adell who is one of three women behind a brand-new wine from Spain
The best days and the best experiences in my life are meeting new people who are part of the wine world.
By
Jane Clare of One Foot in the Grapes
Thursday, 8th April 2021, 12:30 pm
Updated
Saturday, 10th April 2021, 1:12 pm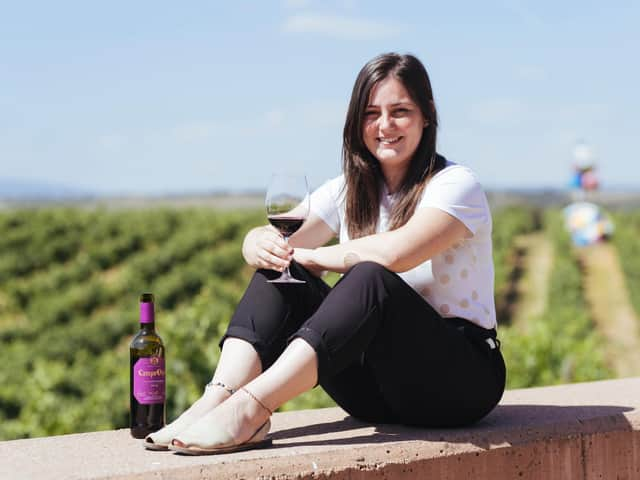 Elena Adell, one of the Campo Viejo winemakers
People who are behind the joy of bringing us a tasty sip of something in a glass.
They do their thing with the grapes.
We do our thing with the sipping and the appreciation.
Elena Adell and her winemaking colleagues Irene Pérez and Elena Suárez
I spoke to winemaker Elena Adell who is one of three women winemakers who is one of the decision makers behind a wine released for the first time in the UK this week.
Campo Viejo's Winemakers' Blend (RRP £8.25) is now in Tesco, followed by Ocado later in the month and Morrisons from May 17.
Elena and her winemaking namesake Elena Suárez, together with Irene Pérez, have collaborated to create the new wine.
I caught up with Elena on a cold breezy lunchtime in the UK and spoke to her in the sun-dappled Campo Viejo winery in Spain via Zoom.
The Campo Viejo brand is one of the most recognisable on our Spanish wine shelves. It is, in fact, the UK's number one Spanish wine brand with its Rioja styles very popular indeed.
It was interesting to have a sneak peek behind the scenes.
Elena is the youngest of the three winemakers, and she believes they each bring their own character to the blend which uses a couple of grapes often at the heart of Rioja wines.
Here the grapes tempranillo and garnacha join forces with a lesser-known one, bobal. The new wine isn't a Rioja, but it shares the red fruit characteristics and vanilla silkiness of its famous Spanish cousin.
Elena explained: "With this wine we tried to translate the style of our brand in a wine which would represent the wine diversity Spain has.
"We used three different grapes which were representative of Spanish varieties.
"Tempranillo is 66 per cent of the blend. It's a very important variety in terms of fruit. It brings plum, blackberry and blueberry and it provides good concentration in colour and structure.
"Garnacha is very concentrated with a lot of red fruit aromas, raspberry, strawberry and even some watermelon."
Bobal, said Elena, brings in cherry and spicy notes.
Elena told me that some of the grapes are grown on old vines. I loved that. It's one of my geek tick-boxes.
Old vines aren't as giddy and high-yielding as younger energetic plants. The grapes from old vines are more concentrated with flavour.
The new Winemakers' Blend would be a good match with spring lamb.
Ah, lamb! Simply my favourite dish at this time of year!
Spanish reds are one of my go-to choices.
Here's another couple of ideas. This Rioja from Booths is a great match with lamb. Booth & Co. Gran Norte Rioja Crianza 2017 (£10.25) was the winner of the Red for Easy Weekday Meals category at the recent People's Choice Wine Awards.
It is crafted from 100 per cent tempranillo and has hints of vanilla and spice from oak .
Or this gem from The Wine Society is very tasty too. I sipped The Society's Exhibition Rioja Reserva 2015 (£16.50) as a teaser to the society's spring and summer selection.
Director of Wine and buyer for Spain, Pierre Mansour, says: "Rioja is benefiting from two excellent 'reserva' vintages, 2016 and 2015."
If you see the term 'reserva' on a Rioja label you'll know it has been aged in both a barrel and a bottle, with each bringing along its own characteristics to the wine.
The wine is a garnet colour, indicating it has some ageing behind it.
And this wine has done that very elegantly indeed.
It has aromas of cedar, vanilla, coconut and red fruits. There's a refreshing acidity with red fruits, vanilla and spice all tapping on my palate's senses.
It's really exciting 'to be allowed out'. I just hope we're all sensible and don't take some backward steps as we meet family and friends outdoors for the first time in weeks.
A springtime white may be your thing; in which case Aldi has a smashing new Greek wine, Aspri Petra Assyrtiko (£6.99).
We might not be able to go to Greece, but we can dream about it with this glass of zing!
The assyrtiko grapes are sourced from the town of Florina, in Macedonia, and are blended with 10% sauvignon blanc.
This creates a wine which sings of lemon and with a very refreshing zesty finish. Ah, if only we could sit by a Greek harbour and enjoy the holiday vibes.
Jane Clare is One Foot in the Grapes, a programme provider for the Wine & Spirit Education Trust. [email protected]